Members of the Engineering Club at Penn State Wilkes-Barre, accompanied by faculty members Dr. Jon Carson and Dr. Albert Lozano, recently visited Boeing's Integrated Defense Systems facility located in Ridley Park, Pa.  Boeing Integrated Defense Systems combines weapons and aircraft capabilities, intelligence, surveillance systems, communications, architecture and extensive large-scale integration expertise.
After a brief introduction to Boeing and its rotorcraft division, as well as internship and employment opportunities, students were given a tour of the wind tunnel, which allows Boeing to test the performance of aircraft up to Mach 0.3.  This is an important segment of the flight, as it includes the critical phases of take off and landing.  The wind tunnel is a closed-circuit tunnel, with a quarter of a mile air path containing 42 tons of air.
Afterwards, the students were taken to the Chinook assembly line.  The Chinook CH-47D, first developed in 1967, is a multi-mission, tandem rotor, heavy-lift helicopter used by military forces around the globe and can handle loads up to 24,000 lbs.  Its tandem rotor configuration provides exceptional handling qualities, allowing for operation in climatic, altitude and crosswind conditions that typically prevent other helicopters from flying.
The students were able to see the different stations used in the manufacture of new Chinooks as well as the refurbishing of older units giving students from mechanical and electrical engineering, as well as other engineering disciplines, the opportunity to see the different parts and processes used in a complete engineering process.
For more information, please contact Dr. Albert Lozano, Penn State Wilkes-Barre Electrical Engineering Technology Program Coordinator, at [email protected] or 570-675-9245.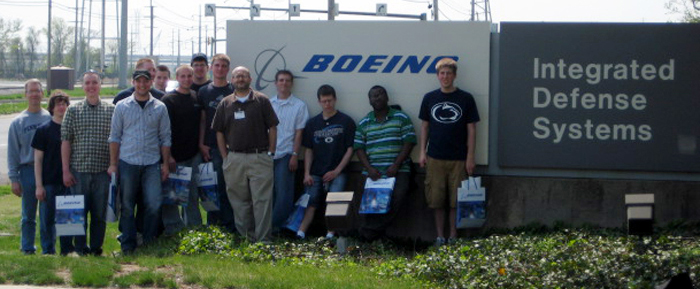 Left to right:
Dr. Jon Carson, Assoc. Professor of Engineering/Engineering Club Advisor; Jonathan Myrkalo; Joe Stevens; Mark Krofchok; Kyle Hillard; Garth Todd; Kyle Scherer; Danny Dymond; Ed Gill; Dr. Albert Lozano, Professor of Engineering; Ryan Hammond; Eric Kleist; Luc Eleazer; Tyler Barnard