Penn State Wilkes-Barre held its 21st annual Celebration of Academic Excellence ceremony Friday, April 30.
Sponsored by the Department of Academic Affairs, more than 30 students received various awards for exemplary academic performance and high achievement.  The following awards were presented at the ceremony:
2010 President Sparks Award: Shane T. Andes
2010 President's Freshman Award: Kevin A. Bennett, Sabrina M. Bush, Timothy B. Graham, Jennifer M. Naro, Donovan W. Schwartz.
Program awards are given to students enrolled in one of the 13 degree programs offered at Penn State Wilkes-Barre who are either graduating or in their last semester of residence at the Wilkes-Barre campus before graduating:
Bachelor of Science in Administration of Justice Program Award: Michael Kocet, Daniel Spath
Bachelor of Arts in Letters, Arts, & Sciences Program Award: Lisa M. DeSando
Bachelor of Science in Electrical Engineering Technology Program Award: Joseph Stevens
Bachelor of Science in Surveying Engineering Program Award: Joseph Gabor
Associate in Surveying Technology Program Award: Darren Hauser
Bachelor of Science in Information Sciences & Technology Program Award: Ryan Ginocchietti, Adam Sutliff
College/Division awards are given to students who have completed the first two years of their college education at Penn State Wilkes-Barre and are changing their campus assignment to complete their degree:
College of Education Award: Jeffrey Weems
College of Engineering - Civil Engineering Award: Silvia Sutkowski
College of Information Sciences and Technology Award: John Osinski
Science and Mathematics Division Award: Eric Kleist
Major awards are given to students who have completed the first two years of their college education at Penn State Wilkes-Barre and are changing their campus assignment to complete their degree.
University College - Administration of Justice Major Award: Robert Danko, Jr.
College of Engineering - Computer Science Major Award: Shane T. Andes
The Honor Society provides co- and extracurricular enrichment for selected members of the student body qualified on the basis of scholastic aptitude, test scores, and/or high school or college grade point average (GPA):
Honor Society Members: Abigail A. Bachman, Kelly A. Bone, Jordan M. Broody, Bradley C. Calaman, Michael J. Cappos, Rachel A. Hosking, Alyssa B. Meadows, Brian A. Miller, Megan A. Millo, William M. Ritchie, Clinton P. Sorber, Sara T. Stepanski, John S. Ulichney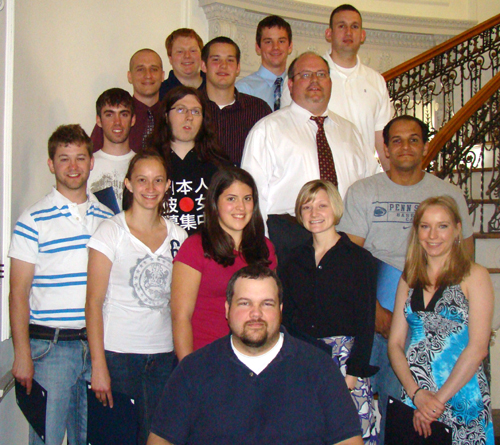 Row 1: John S. Ulichney
Row 2: Darren Hauser, Silvia Sutkowski, Jennifer M. Naro, Lisa M. DeSando, Alyssa B. Meadows
Row 3: Clinton P. Sorber, Shane T. Andes, William M. Ritchie
Row 4: Michael Kocet, Jeffrey Weems, Robert Danko, Jr.
Row 5: Michael J. Cappos, Bradley C. Calaman, Timothy B. Graham
Absent from photo: Abigail A. Bachman; Kevin A. Bennett; Kelley A. Bone; Jordan M. Broody; Sabrina M. Bush; Joseph Gabor; Ryan Ginocchietti; Rachael A. Hosking; Eric Kleist; Brian A. Miller; Megan A. Millo; John Osinski; Donovan W. Schwartz; Daniel Spath; Sara T. Stepanski; Joseph Stevens; Adam Sutliff