Penn State Wilkes-Barre recently honored several members of the faculty and staff for service above and beyond expectations: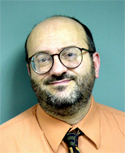 The Innovation Award recognizes an outstanding member of the campus community, or a campus team, who has made a significant contribution to the campus through innovation by initiating a new program, activity, or service.
Dr. Albert Lozano, professor of engineering, received the Innovation Award for his contributions to the campus through the introduction of high-altitude balloon technology.  This past academic year, Dr. Lozano received a grant from the Pennsylvania Space Grant Consortium, a member of the National Space Grant Foundation, to bring this new technology to Penn State Wilkes-Barre.
The launching of these balloons benefit not only students enrolled in math, physics, engineering, and related disciplines, but can also engage students in a variety of other areas, as well as younger students at the grade- and high school levels.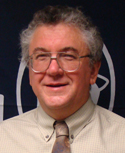 The Excellence in Service to Campus/Community Award recognizes a member of the campus family who has made a significant voluntary and unpaid contribution to the campus or the community beyond the capacity of his or her university-recognized or professional obligations.
Marshall Davis, instructor in administration of justice, was named this year's Excellence in Service to Campus/Community Aware recipient.
Davis not only coordinates the administration of justice program on campus, he spends countless hours working with the students of this program to ensure their success both in and out of the classroom and is constantly looking for opportunities to showcase his students.
He makes himself available for nearly every Open House, Spend a Summer Evening event, and Offer Reception hosted at the campus and understands that neither the campus, nor his program, would be successful without such dedication from faculty and staff to make students feel comfortable and welcome at the campus.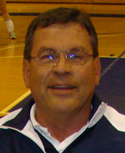 Named for a former campus employee who epitomized the core values of sensitivity and concern for others, the Fran Brown Humanitarian Award recognizes an outstanding member of the campus community, or a campus team, that has fostered an environment that values civility and celebrates diversity.  This individual or team consistently builds community by appreciating each person's uniqueness and by making everyone feel welcomed.
Athletic Director Jack Monick received the Fran Brown Humanitarian Award.  A member of the campus team for the past 26 years, Monick has significantly contributed to Penn State Wilkes-Barre beyond his job title of directing the athletic programs at the campus.
Monick actively recruits and retains students at the Wilkes-Barre campus by traveling to their high schools, networking with students and coaches, creating an interest in the campus, and then following through with these new students by helping them adjust to college life, expectations of performance, and cultural climate at Penn State Wilkes-Barre.
Monick understands and values the priority of attaining an education while also participating in healthful activities, social engagement, and working together as team.  He truly connects with the students to make sure they get the most out of their college experience, both on the playing field and in the classroom.
Monick was also presented with the University's Robert J. Scannell Roll-of-Honor award.  This award is presented annually to an administrator, faculty, staff member, or coach who has served campus athletic, intramural, and recreational programs with distinction.
For more information, please contact Melissa Gunshannon, Public Information Coordinator at Penn State Wilkes-Barre, at 570-675-9269 or [email protected].