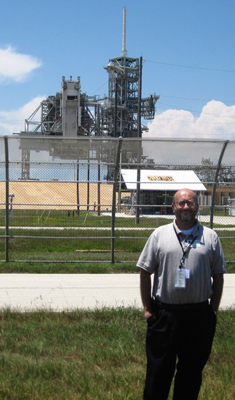 Dr. Albert Lozano, Professor of Engineering at Penn State Wilkes-Barre, recently participated in the 2010 Senior Design Workshop hosted by NASA's Exploration Systems Mission Directorate (ESMD).  The workshop, fully funded by NASA through the National Space Grant Foundation, took place at Kennedy Space Center in Florida, where ESMD is housed.
The goal of the workshop is to encourage faculty members teaching senior design courses to introduce concepts of systems engineering in their courses.  In addition to presentation and networking with colleagues, attendees had the opportunity to visit several restricted areas of the launch complexes located at the Space Center.
"Being able to stand just a few feet elbow the wing of a shuttle while its thermal tiles are being inspected is a rare opportunity," Lozano said.  "It also highlights the crucial importance of engineering to the scientific, technological, and economic future of the United States."
Lozano plans to use several aspects from the workshop in his senior design course he teaches as part of the Baccalaureate Degree in Electrical Engineering Technology offered at Penn State Wilkes-Barre.
For more information, please contact Melissa Gunshannon, Public Information Coordinator at Penn State Wilkes-Barre, at [email protected] or 570-675-9269.