Approximately 250 Penn State students and staff from each Penn State campus and University Park recently gathered at Penn State Altoona to attend the Penn State University Summer Leadership Conference.
Seven students from Penn State Wilkes-Barre were chosen to represent the campus during this three day conference which focused on developing leadership, citizenship and networking skills. Students attended workshops, participated in community service activities in the greater Altoona area, and shared experiences and "Best Practices" among the University's campuses.  Conference participants enjoyed movies, a comedian, game rooms, geo-caching, and other recreational activities, while also showcasing their Penn State pride and participating in workshops and community service projects.
This year's keynote speaker, Marlon Smith, is a graduate of the University of Virginia with a Bachelor of Science degree in electrical engineering.  As a college student, Smith claimed his proudest moment came when he founded Street Academics, a high school youth mentoring program where college students provided student leadership development for younger students.  Because of his message, Smith has traveled all over the United States and abroad on numerous speaking tours.  He also worked in South Africa where he produced the "Motivational Mondays" television series and the national "Success is Your Choice" radio program.
As the academic year commences, the students who attended the Summer Leadership Conference will become role models for those on campus as they put into practice what they learned over the summer.
For more information, contact Melissa Gunshannon, Penn State Wilkes-Barre Public Information Coordinator at 570-675-9269 or [email protected].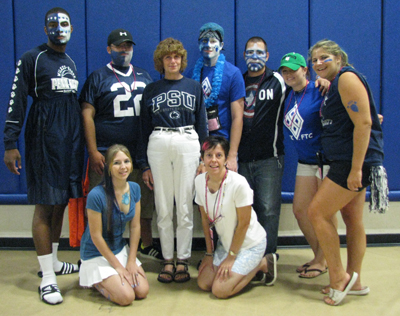 Penn State Wilkes-Barre Summer Leadership Conference participants display their Penn State pride during the three-day conference:
Kneeling: Shannon Brace; Jackie Warnick-Piatt, PSU Wilkes-Barre Student Activities Coordinator
Standing: Frank Peters; Parker Nevenglosky; Kathie Flanagan-Herstek, PSU Wilkes-Barre Director of Student Affairs; Alex Seasock; Mike Calore; Amy Parry; Kate Lewis