Penn State Wilkes-Barre's Student Support Services recently received a five-year grant funded by the TRIO program administered by the Department of Education.  The grant, $290,516 per year, allows the campus to provide services to first-generation students, low-income students, and students with disabilities.
Penn State Wilkes-Barre's Student Support Services helps students make the transition to college and be successful in their studies. The grant also focuses on retaining students and supporting them throughout their college experience.  Programs offered at the campus include various workshops related to academics, note-taking, test-taking, time management, financial aid, career options, and literacy skills.  SSS also hosts numerous social and cultural events, a peer mentor program, a book loan program, math and English tutors, and grant-in-aid support.
The Student Support Services program is currently housed in the recently renovated John R. Murphy Student Services Center on campus.
For more information, please contact Melissa Gunshannon, Public Information Coordinator at Penn State Wilkes-Barre, at [email protected] or 570-675-9269.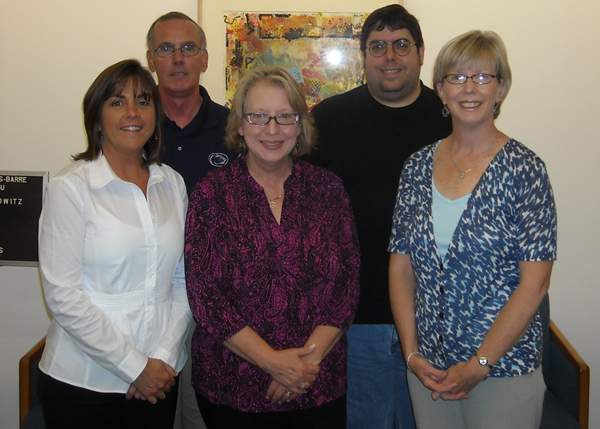 Members of the Penn State Wilkes-Barre Student Support Services staff:
Row 1: Gail Stevens, Academic/Career Counselor; Marilyn Olenick, English Tutor; Pat Arcangeli, Staff Assistant
Row 2: Allan Scoble, Student Support Services Coordinator; Bill Pethick, Math Tutor