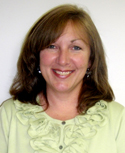 Penn State Wilkes-Barre and its Continuing Education department are pleased to announce the addition of Georgia Egan to its staff as she assumes the position of Education Program Associate for Continuing Education.
Egan holds a Bachelor's degree in Industrial Engineering from Penn State and is a graduate of the University of Maryland with a Master's degree in Education/Instructional Systems Design.  She has spent time working in and consulting with various industries providing training and workforce development solutions to local, national, and international corporations.  Most recently, Egan worked as an independent consultant to various state workforce areas and colleges and universities in developing career pathway models, training needs assessments, curriculum development models, and research papers focused on improving workforce performance and acquiring 21st century skills.
"I am looking forward to bringing my program management and development experience to the Penn State team in providing high-quality, customer-focused educational programming," Egan said.
"Georgia is a great addition to our CE operation," said Jane Ashton, Director of Continuing Education at Penn State Wilkes-Barre.  "Georgia's primary responsibilities will be coordinating our Summer Youth Program and working with business and industry to identify their employee professional development needs."
A native of Lehman, Pa., Egan enjoys spending time with her husband, Larry, and three children, Nick, Kaley, and Riley and volunteering for many community sports, scouts, and school programs.
Penn State Wilkes-Barre Continuing Education is part of Penn State Outreach, the largest unified outreach organization in American higher education, serving more than 5 million people each year, delivering more than 2,000 programs to people in all 67 Pennsylvania counties, all 50 states and 80 countries worldwide.
Penn State University is committed to equal opportunity and diversity in both its employees and students.  For more information, please contact Melissa Gunshannon, Public Information Coordinator, at 570-675-9269 or [email protected].