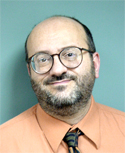 Dr. Albert Lozano-Nieto, professor of engineering at Penn State Wilkes-Barre, recently published his first book, RFID Design Fundamentals and Applications, through CRC Press.
This book describes the basic fundamental principles of radio frequency identification (RFID) as an emerging wireless technology used in the automation process for tracking goods, for example, in the logistics area; supply chain for industry and retailers; and similar services. It is also used to combat the counterfeit of critical goods such as pharmaceutical products and electronic parts used in aviation and military equipment.
A native of Barcelona, Spain, Dr. Lozano-Nieto earned a Ph.D. in electrical engineering in 1994 from the Polytechnic University of Catalonia, Barcelona Spain.  He joined Penn State Wilkes-Barre in 1996 and is also an RFID+ Certified Professional, awarded by the Computing Technology Industry Association (CompTIA) in 2008.
Dr. Lozano-Nieto currently resides in Shavertown with his wife, Debra.
For more information, please contact Melissa Gunshannon, Public Information Coordinator at Penn State Wilkes-Barre, at [email protected] or 570-675-9269.