On Saturday, November 13, Penn State Wilkes-Barre held its first high-altitude balloon launch.  A team of faculty and students led by Penn State Wilkes-Barre faculty members Dr. Albert Lozano-Nieto, professor of engineering, and Dr. Jon Carson, associate professor of engineering, assembled the payloads, launched the balloon, tracked, and recovered the balloon and cameras sent with it.
Despite losing the balloon's GPS signal as it descended behind a hill, the team of students working on the recovery mission were able to calculate the possible landing point of the balloon to within a half mile of the balloon's actual location.
"From a faculty point of view, the best result from this activity was to see students engaged in real-time problem solving, evaluating alternatives and coming out with the best decision given the partial information they had," said Dr. Lozano-Nieto.  "They also showed a good deal of leadership skills and teamwork as they worked together to recover the balloon and payloads that contained three small video cameras to record the flight from the balloon."
The flight lasted approximately two hours with the balloon reaching an altitude of 85,000 feet and experiencing temperatures as low as -46 degrees Fahrenheit before finally landing in the Delaware Water Gap close to the Pennsylvania-New Jersey border.
Dr. Lozano-Nieto said he hopes to plan for another launch in the spring when the weather is more favorable to such a project.
This project was supported by a grant from the Pennsylvania Space Grant Consortium, Student Activity Fee funds, and the office of the Director of Academic Affairs at Penn State Wilkes-Barre.  For more information, please contact Melissa Gunshannon, Public Information Coordinator at Penn State Wilkes-Barre, at [email protected] or 570-675-9269.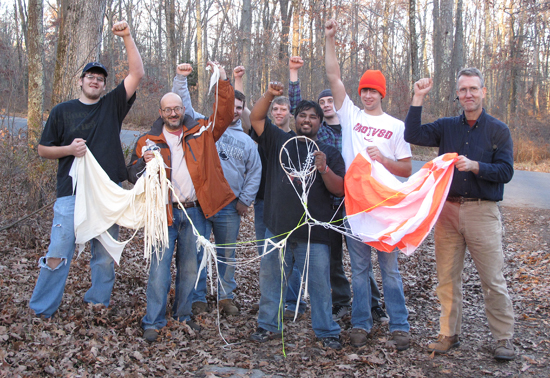 Members of the high-altitude balloon launch team:
Front row: Daniel Dymond, Dr. Albert Lozano-Nieto, Vidur Ramlall, Kyle Casterline, Dr. Jon Carson
Back Row: Steven Lutz, Ryan Hammond, Robert Charles