Penn State Wilkes-Barre's Student Support Services Program recently sponsored an Emergency Preparedness Workshop for faculty and staff.
Terry Bates, Emergency Services Manager for the American Red Cross, and Dan Downey, a volunteer with the American Red Cross, taught participants how to prepare for an emergency, specifically focusing on emergencies within one's own home.
"The information presented was extremely valuable since many of us think about emergencies when we are actually faced with one," said Allan Scoble, Penn State Wilkes-Barre Student Support Services Coordinator.  "Many people feel that such emergencies always happen to 'the other guy,' when, in reality, everyone needs to take more precautionary measures both to prevent emergencies as well as to deal with these unexpected events once they occur."
For more information, please contact Melissa Gunshannon, Public Information Coordinator at Penn State Wilkes-Barre, at 570-675-9269 or [email protected].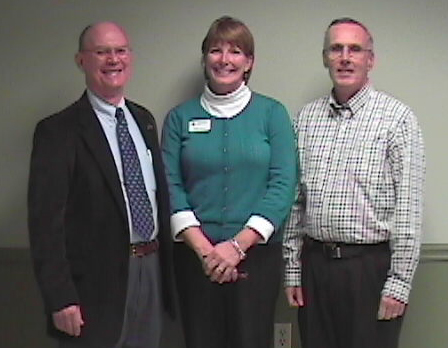 Dan Downey, Terry Bates, and Allan Scoble