Arts at Hayfield, a non-profit community arts support organization housed at Penn State Wilkes-Barre, recently awarded Penn State Wilkes-Barre students Shannon Brace and Yu Wei Xie the Irene Thomas Memorial Award for their contributions to the arts.
Brace is a Dean's List student whose artistic interests include writing novel-length stories, poetry, short stories, and poetic drama.  She is also interested in photography, sewing, make-up design and artistic animation.  Brace has been involved in creating artistic and scary elements for Penn State Wilkes-Barre's Haunted Forest and serves as president of the Lazy Artists.  She also participates in Student Government Association and the Council of Commonwealth Student Governments.
Xie holds a Bachelor's degree in dance education from Minzu University in Beijing, China.  She previously taught dance in China and the United States and also enjoys singing, drawing, and performing and hopes to perform and teach dance to children after graduating from Penn State.
For more information, please contact Melissa Gunshannon, Penn State Wilkes-Barre Public Information Coordinator, at [email protected] or 570-675-9269.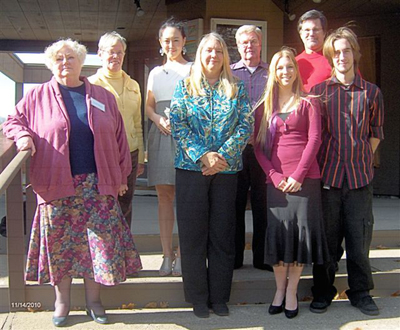 Row 1: Linda Major, awards chair; Mary Ann Brace; Shannon Brace; Mark Wasilewski
Row 2: Mary Reddy, awards co-chair; Yu Wei Xie;  Kenneth Brace; Jim Burcicki