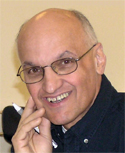 Dr. Charles D. Ghilani, Professor of Engineering at Penn State Wilkes-Barre, recently authored the 13th edition of "Elementary Surveying: An Introduction in Geomatics," published by Prentice Hall.
This introductory text presents fundamental information on modern surveying practices and highlights current technological advances in the field of geomatics.
Dr. Ghilani is also the author of the fifth edition of "Adjustment Computations: Spatial Data Analysis," published by Wiley. This book is the only book on statistics and least squares adjustments in print for the surveying community.
Dr. Ghilani received his Ph.D. in Civil and Environmental Engineering from the University of Wisconsin-Madison in 1989 and has been involved as an educator for nearly 40 years, with the last 21 years at Penn State Wilkes-Barre. He has presented workshops related to statistics and least squares to surveyors across the country and has written numerous papers. He is an ACSM Fellow and has received numerous university and professional awards including the Earle J. Fennel Award from ACSM in 2001.
For more information, please contact Melissa Gunshannon, Public Information Coordinator at Penn State Wilkes-Barre, at [email protected] or 570-675-9269.