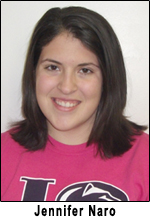 Penn State Wilkes-Barre student Jennifer Naro recently received the Division of Undergraduate Studies Award for Exploratory Students from Penn State University.
Selected from a pool of 60 students, Naro is a Dean's List student who has participated in numerous campus and community activities, including the Penn State Wilkes-Barre THON Committee, Business Club, Lion Ambassadors, tennis team, and basketball statistics crew as well as coaching Edwardsville/Larksville girls' softball and volunteering with the Zoe Lambert Benefit Softball Tournament.
The Division of Undergraduate Studies at Penn State aims to assist students who have not declared a major, helping them discover what programs and courses of study interest them and leading them to informed educational decisions. DUS also includes the First-Year Testing, Consulting, and Advising Program (FTCAP), Penn State's academic information network, and general academic advising for current and prospective students.
For more information, please contact Melissa Gunshannon, Public Information Coordinator at Penn State Wilkes-Barre, at [email protected] or 570-675-9269.