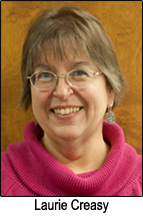 On Friday, May 6, Penn State Wilkes-Barre will be hosting an Executive Management Breakfast Series at the Best Western Genetti Hotel and Conference Center in Wilkes-Barre, Pa., beginning at 7:45 a.m. The topic for the May event will focus on how local businesses can improve their customer service by using social media, including Facebook and Twitter.
As customers grow more and more social media savvy, it can be anticipated that they would expect the same from the sources of the products they use. The Executive Management Breakfast Series, sponsored by the Penn State Wilkes-Barre Alumni Constituent Society, features keynote speaker Laurie Creasy, New Media Specialist at Penn State University and the woman who oversees the Penn State Facebook page. Creasy will examine using social media tools such as Facebook and Twitter to spread a company's message and how companies can monitor what consumers are saying about them.
Creasy and the Penn State Facebook team went under a trial by fire during a 2010 snowstorm and has since successful navigated several challenges to its page, including one by Greenpeace. Creasy has also worked for a nonprofit organization where she doubled the number of Facebook fans in six months.
Creasy earned a Bachelor of Arts degree in English/Russian from Penn State University and a Master of Science degree in human-computer interaction from Rensselaer.
For more information and to RSVP, please contact Sandy Race, Penn State Wilkes-Barre Continuing Education, at [email protected] or 570-675-9253. You may also access the Executive Management Breakfast series invitation online.