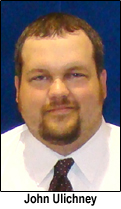 "In 2002, I suffered a life-altering injury that fractured my skull, ruptured my ear drum, and broke my back," recalls John Ulichney, Penn State Wilkes-Barre 2011 Outstanding Adult Learner of the Year. "The injury left me permanently paralyzed from the waist down."
After months of rehabilitation in Philadelphia and almost two years of outpatient rehabilitation, he decided to rise above his new limitations.
"Instead of letting the injury drag me down, I decided to make the most of my life by going back to school and becoming a productive member of society again," Ulichney said.
Ulichney, an Information Sciences and Technology major at Penn State Wilkes-Barre, currently serves as the president of the IST Club on campus, is an active member of the campus Honor Society, and serves as a mentor to incoming first-year students.
Ulichney also participates in a number of community service initiatives, organizing a drive through the IST Club to donate items to the Luzerne County SPCA, helping coordinate a joint effort between the IST Club and Honor Society to collect items for give2thetroops.org, and participating in Honor Society projects for UNICEF and Toys for Tots.
"I am very proud of John," said Frouke de Quillettes, Senior Instructor in IST at Penn State Wilkes-Barre. "His frequent contributions to the class discussions and teamwork are thoughtful and informed. Having him in class is rewarding for me because he is enthusiastic and eager to learn."
"John is a mature, intelligent, and conscientious student whose accomplishments are marked with scholarship and thoroughness," added Wei-Fan Chen, Associate Professor of IST at the campus. "I am very proud to have him as my student."
Ulichney will complete an internship over the summer and plans to pursue a master's degree after graduation with hopes of working for a large private/government organization in the networking or other related field. He and his fiancée, Mary Morganti, plan to marry this December.
For more information, please contact Melissa Gunshannon, Public Information Coordinator at Penn State Wilkes-Barre, at [email protected] or 570-675-9269.