The Penn State Engineering Alumni Society (PSEAS) recently presented Dr. Jon Carson, Associate Professor of Engineering at Penn State Wilkes-Barre, with the 2011 Outstanding Teacher Award.
According to the PSEAS website, the PSEAS Outstanding Teacher Award "recognizes and rewards outstanding engineering educators for excellence in teaching and for contributions to the art of teaching. These teaching awards are established to confer honor on individuals whose inspiration and contributions to learning are truly memorable."
Dr. Carson, a 1972 Troy High School graduate, earned a bachelor's degree from Penn State in 1977 and a master's degree and Ph.D. from the University of Illinois in 1981 and 1985 respectively. Dr. Carson currently resides in Dallas and has spent the past 20 years teaching engineering courses at Penn State Wilkes-Barre.
For more information, please contact Melissa Gunshannon, Public Information Coordinator at Penn State Wilkes-Barre, at [email protected] or 570-675-9269.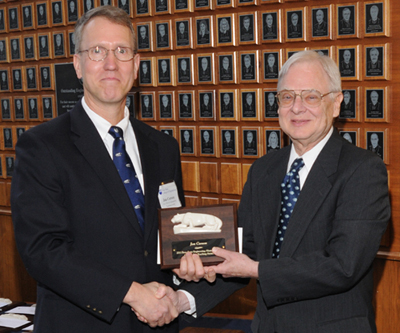 Dr. Jon Carson (left) receiving the 2011 PSEAS Outstanding Teacher Award from Dr. David Wormley, Dean of the College of Engineering at Penn State University.
Photo courtesy of Paul Hazi Photography.