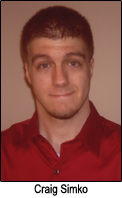 Senior Information Sciences and Technology student Craig Simko will graduate from Penn State Wilkes-Barre on May 14.  Simko's diligence and hard work both in and out of the classroom landed him a full-time job with Extundo Innovations LLC, where he completed his internship, following graduation:
"In the classroom I am always willing to lend my knowledge to a student who needs help with a homework problem or in class assignment. Sponsored by my academic advisor, Frouke DeQuilletes, another student and I entered original research in the First Annual PSU Eastern Regional Undergraduate Symposium and received honorable mention.
"My creativity shines through most when I am working at my internship. Solving development issues with innovative ideas has been the key to my success. Currently I intern with a privately owned company Extundo Innovations LLC, operating out of the Scranton Enterprise Center. I am part of a three person development team that creates and maintains websites. I am responsible for coding both the back and front ends of these systems along with creating user friendly interfaces. Working with more experienced programmers has been a great boon to my college career and I have the IST Internship program to thank for it.
"The next project we are working on is called nearbid.com which launches May 5 and will be an 'eBay of services,' a site where people will post and bid on many types of jobs
"Having been offered a full time position with Extundo LLC after graduation, I plan to continue my employ with them. Being a part of a local company focused on local interests is something I can be proud of."
For more information, please contact Melissa Gunshannon, Public Information Coordinator at Penn State Wilkes-Barre, at [email protected] or 570-675-9269.