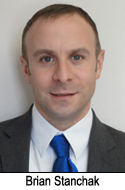 Penn State Wilkes-Barre is pleased to announce the addition of Brian Stanchak as he assumes the position of Athletic Director for the campus.

Stanchak graduated from Seton Hall University in 2004 with a bachelor's degree in business administration in sport management. While at Seton Hall, Stanchak also worked with the men's basketball team as a student assistant/video coordinator, during a time in which the Pirates earned one NCAA and two NIT tournament appearances.

"I am very excited to lead a new era for Penn State Wilkes-Barre athletics," Stanchak said. "I look forward to continue building the tradition of our athletic programs and establishing a long-lasting legacy that our school and local community can be very proud of."

Stanchak brings more than a decade of athletic knowledge to Penn State Wilkes-Barre, most recently working as an assistant coach/camp director with Seton Hall's women's basketball program where he was responsible for on- and off-campus recruiting efforts; on-the-floor coaching at individual workouts, practices, and games; and organizing and directing all camps. While at Seton Hall, three student athletes who were ranked in the top 100 nationally in their class were signed to play for the university.

Prior to coaching at Seton Hall, Stanchak was the coordinator of basketball operations for the men's and women's basketball teams at the University of Pennsylvania for the 2004-05 season - a season during which the Quaker men won an Ivy League Championship and earned a berth in the NCAA Tournament. Stanchak then moved on to serve two seasons as top assistant coach/recruiting coordinator with the women's basketball team at Fairleigh Dickinson University.

Stanchak said it is his goal to help Penn State Wilkes-Barre's intercollegiate athletic programs reach their highest potential and establish the intramural and recreation programs as an integral part of the students' overall college experience.

Stanchak currently resides in Hanover Township and enjoys traveling, outdoor activities, movies, and music.

Penn State Wilkes-Barre provides the benefits of a world-renowned university in a smaller, more intimate setting. Dedicated staff and teachers have helped students of all ages since the campus' inception in 1916 and continue to provide excellent education and support. Penn State Wilkes-Barre boasts eight Bachelor's degrees and four Associate's degrees available from the campus and the ability to start one of more than 160 degrees at Penn State Wilkes-Barre and continue at another campus.

Penn State University is committed to equal opportunity and diversity in both its employees and students. For more information, contact Melissa Gunshannon, Public Information Coordinator at Penn State Wilkes-Barre, at [email protected] or 570-675-9269.