Penn State Wilkes-Barre's Student Support Services recently held its Annual Year End Celebration for its students at AppleTree Terrace, Newberry Estates in Dallas.
The students were treated to a night of great food, fun, and friendship with their fellow students, faculty, and staff, honoring the continuing students, transfer students, peer mentors, work study students, and spring graduates.
Wayne Wolfe, director of staffing and volunteer services at the American Red Cross Wyoming Valley Chapter, spoke to the students about volunteerism in the community, specifically the Wyoming Valley Chapter of the Red Cross and Dan Downey, former director of career services at Penn State Wilkes-Barre offered insight on career perspectives of volunteerism in relation to résumé building and job searches.
Student Support Services is a TRIO federal grant program that aims to increase college retention, graduation rates, and career options for first-generation college students, those from low-income families, the physically challenged, and students with learning disabilities. Penn State Wilkes-Barre's SSS program currently includes more than 160 students.
For more information, please contact Melissa Gunshannon, Public Information Coordinator at Penn State Wilkes-Barre, at [email protected] or 570-675-9269.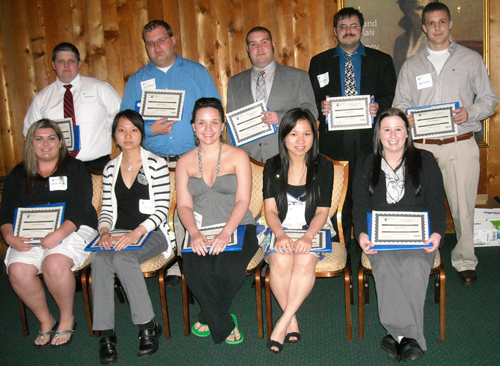 Row 1: Priscilla Benesky, Sudan Chen, Kristine Strong, Suxia Chen, Lacy Strong
Row 2: Brian Bunney, Aaron Blockus, Bryan Harding, Robert Naro, Adam Tamanini