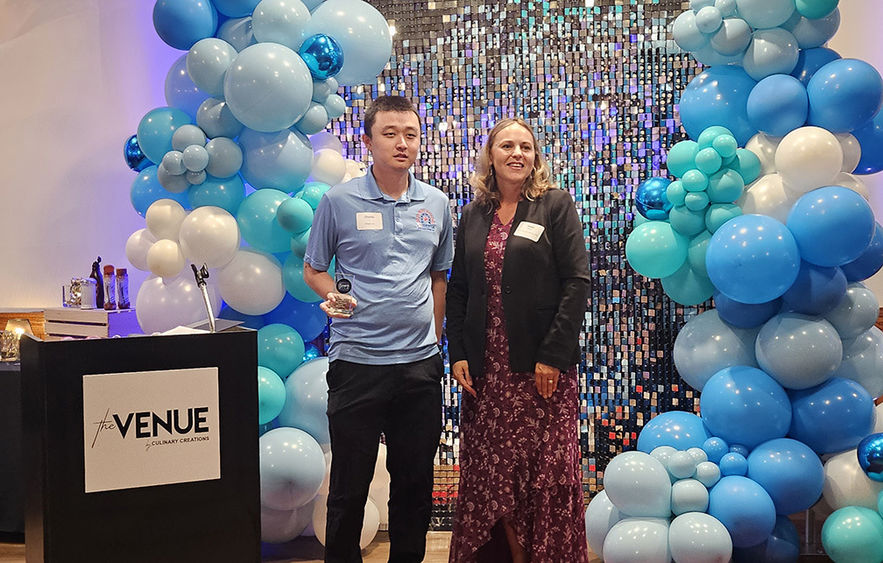 DALLAS, Pa. — A recent alumnus of Penn State Wilkes-Barre received a Young Professionals Award from the Greater Wyoming Valley Chamber of Commerce at an event held this fall.
Charlie Li, who earned a bachelor of science degree in electrical engineering technology with a minor in business in May 2023, received the Voluntary Leader of the Year Award during the chamber's eighth annual Young Professional Awards held at The Venue in Dupont at the Wilkes-Barre/Scranton International Airport. During the ceremony, more than a dozen local residents were honored for their efforts on behalf of their communities.
"We're here today to honor young professionals who are doing really great things in our area," said Michaela Grundowski, program engagement manager for the Greater Wyoming Valley Chamber of Commerce. "The importance of an event like this in our area is that we are celebrating the young professionals and, by doing so, we hope to encourage them to continue to do great things here."
Li, a resident of Plymouth, was nominated by a fellow member of the Young Professionals Council for his role in organizing and helping facilitate Young Professional events, including a cornhole tournament.
"I got involved with the Young Professionals Council when I first started attending Penn State Wilkes-Barre in fall 2020," Li said. "I wanted to get to know some folks beyond school and be active in my community, and this was a way for me to do that."
Li works as a consultant through his business, Wahgwan Labs, specializing in computing, electronics, computing strategy, audits, software development and hardware development. He said he appreciates the education he received and relationships he built while at Penn State Wilkes-Barre, which he chose to attend for its electrical engineering technology program that is accredited by the Engineering Technology Accreditation Commission of ABET.
"I've been able to look at human relationships differently by being in a small school environment and also having the Greater Wyoming Valley in the backyard," he said. "Penn State Wilkes-Barre was a nurturing place where students can build themselves and the community up. The faculty members do a great job handling students' schedules when so many of us in the program were working outside of school."
In addition to his role with the chamber, Li is active with his hobby of amateur radio. He serves as secretary for the Windmill Amateur Radio Group and as session manager for volunteer examinator coordinators, assisting in administering amateur radio exams. He also helps at events where amateur radio operators are asked to provide real-time communication services.