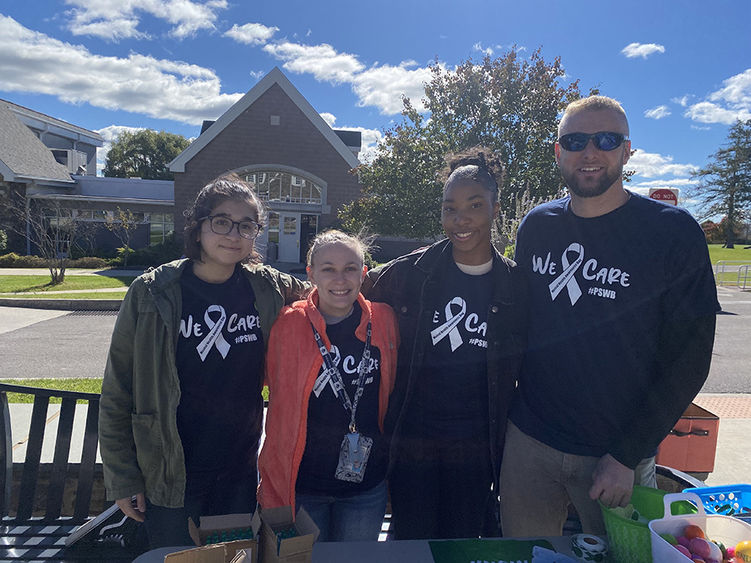 DALLAS, Pa. — Penn State Wilkes-Barre held a Mental Health Awareness Day event on Oct. 13. One student, Kyler Burke, shared her perspective of the event with Penn State News.
"On Oct. 13, the students, faculty and staff at Penn State Wilkes-Barre came together to show their support for the importance of mental health," said Burke. "Led by faculty member Melisa Littleton, who is also my professor of the abnormal psychology class I'm enrolled in, students from all over campus volunteered to help the event be successful.
"When I arrived, it was cold but sunny, and students were milling about at the Student Commons, where everything was set up. Volunteers were at various tables wearing their Mental Health Awareness Day t-shirts, chatting and helping students get acquainted with the event.
"Multiple stations were set up for anyone who wanted to participate and enjoy the event. The first thing to do was sign in and get a complimentary goodie bag with things like stress balls, pens, stickers, bubbles and wristbands. Students were then handed a sheet of paper with five activities, and if they completed at least three, they received a free shirt. If they completed all five, they got the chance to be entered into a drawing for one of two $25 Amazon gift cards. A barcode was set up on a sign so students could take a survey about mental health, which could also get them entered into another drawing for another gift card.
"Activities were by far the best part of the event. Although I was volunteering, I got to participate in some of the fun things that were set up. My friend and fellow student Kamya Brown and I went to the selfie station, where we took a silly photo with headbands and various accessories. I painted a pumpkin and was able to do nothing but relax and enjoy the sunshine while creating my masterpiece. Students could also work with scented Play-Doh; the lemon one was my favorite. Students could also grab some snacks while they were walking around.
"Things I didn't get a chance to visit, but heard great things about, were ladder ball, bean bag toss, mental health screenings done by Meredith Cosgrove, who is the personal counselor on campus, massages inside the Commons and informational tables with pamphlets and papers related to mental health. One of the greatest things was seeing the hard work of my teammate and me paying off; our brochure was set up to give information about social relationships and how it corresponds to mental health, which was created earlier in the semester in class specifically for this event.
"There are times when college can be stressful, especially now when we are nearing the end of the semester and finals. It is important to note that many people face mental health challenges every day, all while leading busy lives, and events like Mental Health Awareness Day help to create healthy habits for those that experience trouble with their mental health (such as anxiety or depression).
"Members of the Penn State Wilkes-Barre campus community came to show their support, and no one was short a smile while they were there. I know I enjoyed volunteering, participating in the activities and talking with my classmates and friends. It was the perfect day to support something very important to me."