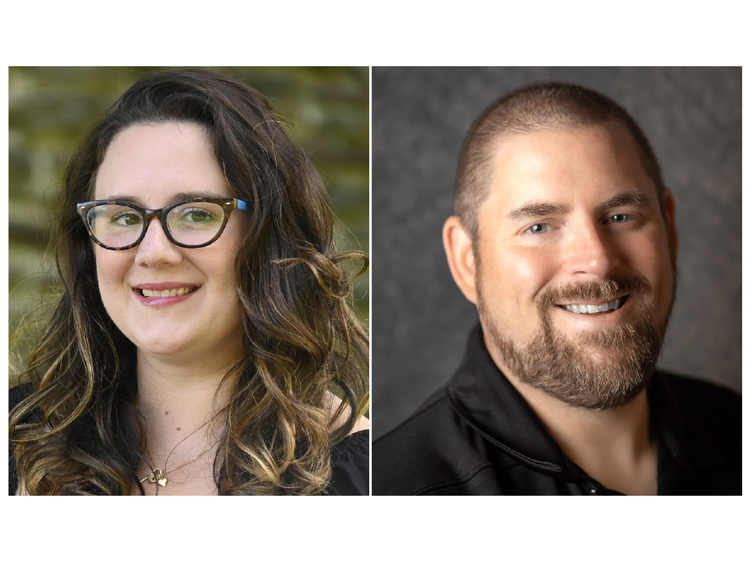 Penn State Wilkes-Barre has named Iris Ouellette as lecturer in English and Nicholas Truncale as lecturer in mathematics, announced Chancellor and Chief Academic Officer Lynda Goldstein. Both faculty ­­-members began teaching at the campus with the start of the fall semester.
"We are looking forward to beginning our new academic year with the addition of these two faculty members," Goldstein said. "Both Iris and Nick bring excellent backgrounds in their respective fields of study, in addition to a commitment to working closely with Penn State Wilkes-Barre students both in and out of the classroom."
Ouellette will teach courses in English composition, rhetoric and composition, and effective writing. She has worked as an adjunct instructor at Penn State Wilkes-Barre for the past year, teaching three sections of English 15 (Rhetoric and Composition). Her courses cover a broad range of composition styles, including literary analysis, expository writing and research-based essays.
"I'm thrilled to be joining the Penn State faculty, because it means becoming a part of an institution recognized worldwide for its contributions to both academics and athletics," Ouellette said. "At a smaller campus like Penn State Wilkes-Barre, faculty and staff can foster a strong sense of community with students and each other. Smaller class sizes and a more individualized learning environment really excite me as an educator within the humanities."
Ouellette holds master of fine arts and master of arts degrees in creative writing in fiction from Wilkes University and a bachelor of arts degree in theatre from King's College. She has taught as an adjunct faculty member in English at King's College, teaching academic writing and introduction to literature; East Stroudsburg University, teaching English composition and advanced composition; and Lackawanna College, teaching introduction to literature, college writing, introduction to philosophy and effective speaking.
She also worked as outreach coordinator for the Tunkhannock Public Library, expanding the library's presence throughout Wyoming County and overseeing the outreach program through which library materials were delivered to satellite locations, assisted living facilities and community centers. Ouellette has published several works and received the Etruscan Prize for Fiction from Etruscan Press in 2019.
Truncale will teach courses in mathematics and statistics. He comes to Penn State Wilkes-Barre with experience in development and oversight of academic programs, policies and initiatives. He was part of the leadership team at The University of Scranton and served as a faculty specialist in the Physics and Engineering Department.
"I am very excited to join the faculty of Penn State Wilkes-Barre and become a part of and contribute to the campus," Truncale said. "After meeting so many faculty and staff who are welcoming, friendly and kind, I was overwhelmed with a sense of community and immediately knew this was the place for me. I cannot wait to meet with students and begin teaching my classes. I hope to make mathematics a more inviting subject for students and ease potential anxiety about taking mathematics courses in college."
He most recently worked as director of student retention and completion at The University of Scranton, providing leadership in the development and coordination of retention, persistence and completion initiatives and working with various departments across campus. He also worked as coordinator of general education assessment and Office of Educational Assessment (OEA) fellow at The University of Scranton. Prior to those roles, he was a physics and engineering faculty specialist at the university, teaching courses in physics, mathematics and engineering and serving as elementary physics laboratory director. While a faculty member, he created the first curriculum for the new mechanical engineering program and new courses and directed an annual physics competition for more than 240 students. He received the Provost's Part-time Faculty Award for Excellence in Teaching and the Joseph P. Harper Award for Excellence in Physics from The University of Scranton.
Truncale also has professional experience in his fields, having worked as a technical instructor for the Joint Cyber Analysis Course at Epsilon in Pensacola, Florida, and as systems engineer at Lockheed Martin in King of Prussia. He holds a master of science degree in education and a bachelor of science degree in physics with a minor in mathematics, both from The University of Scranton, and is pursuing a master of science degree in business analytics from the university. He has published several papers in his fields of expertise and holds a patent for visualizing sound with an electro-optical eardrum.