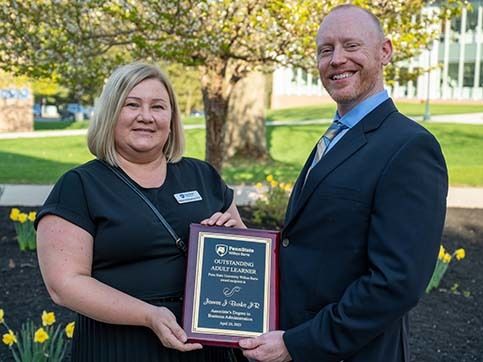 DALLAS, Pa. – Penn State Wilkes-Barre student James Burke Jr. was named an Outstanding Adult Learner and honored during a special reception held at Misericordia University.
The award is sponsored by the Luzerne County Council on Adult Higher Education (LCCAHE), a consortium of the Adult/Continuing Education offices of Penn State Wilkes-Barre, Misericordia University, King's College, Luzerne County Community College and Wilkes University. Each year, the LCCAHE, the longest-standing collaboration between the Luzerne County colleges and universities, sponsors this awards ceremony to recognize the contributions and achievements of an outstanding adult learner at each institution. This is the 34th year the awards have been presented.
"I have had the honor to meet Jim and I was impressed by his dedication to lifelong learning," said Penka Farina, education and training specialist at Penn State Wilkes-Barre. "He has shown us that it is never too late to learn new things and that it is possible to overcome any obstacles and achieve your goals. His story is a testament to his hard work, perseverance and passion for learning. He is a real role model for adult learners everywhere."
Burke, who will receive his associate degree in business administration in May, is a resident of Wilkes-Barre and a graduate of Hazleton Area High School. He enlisted in the U.S. Air Force in 1997 and spent the majority of his career serving as an airfield manager. During Burke's time in the Air Force, he deployed multiple times, including tours in Iraq and Afghanistan. His military accomplishments include being awarded the Bronze Star Medal, serving two separate tours as an air advisor and attaining the qualification of master rated jumpmaster. He retired in 2021 at the rank of master sergeant after 24 years of service.
"I felt very honored to receive this award. To me, it represented success in transitioning from a military professional to a college student," Burke said. "I retired from the Air Force in June 2021 and jumped right into school that August. Getting back into the habit of studying, doing homework and keeping up with discussion board posts was challenging. Thankfully I had a great support system, in the form of my family and girlfriend, who helped me along the way. I'd also like to thank the outstanding faculty and staff at Penn State Wilkes-Barre who recognized my performance and nominated me as the outstanding adult learner for our campus."
While serving in the military, Burke earned a bachelor's degree in business information systems from Bellevue University. He also earned two Community College of the Air Force degrees, one in construction technology and one in aviation management.
At Penn State Wilkes-Barre, Burke serves as president of the Veterans Support Club and as a member of the Student Activity Fee and Student Facilities Fee boards.
"I've really enjoyed my time here. It's a beautiful campus, and the faculty and staff are the utmost professionals," Burke said. "Interacting with the student population was also great. Even though there is a bit of an age gap, I still was able to connect with and get along with them. One of my best memories will be working with the Veterans Support Club. Though we are a small club, we hosted a 9/11 Remembrance Ceremony and a Veterans Day event and even collected about $500 in donations for the VA to distribute to local veterans in need."
All LCCAHE Outstanding Adult Learner award winners go through a comprehensive application process and are reviewed by a committee at each institution to be selected. The award demonstrates a recipient's commitment to learning and service, all while managing a family, career and educational responsibilities.
During the reception at Misericordia University, each outstanding adult learner was presented with a plaque to celebrate their achievement. Burke's award was presented by Natalya Vodopyanova, assistant teaching professor of corporate communication. The ceremony was attended by Burke's family and girlfriend, along with faculty and staff from Penn State Wilkes-Barre.