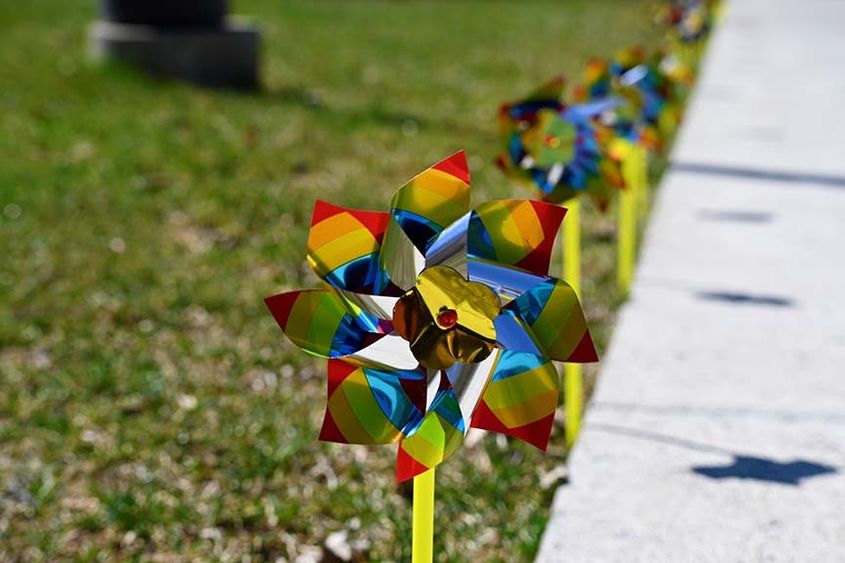 LEHMAN, Pa. — A special outdoor display of pinwheels at Penn State Wilkes-Barre is helping raise awareness and funds for child-abuse prevention.
The campus joins other locations across the country taking part in Pinwheels for Prevention, an initiative designed to share the message that every child deserves the chance to be raised in a healthy, safe and nurturing environment. Pinwheels on campus were sponsored by the criminal justice department in addition to faculty and staff, from whom students in the criminal justice program collected numerous sponsorships. Students and faculty in the criminal justice and rehabilitation and human services programs placed the pinwheels along walkways in front of Hayfield House and near the main entrance of Nesbitt Academic Commons.
All funds collected will be donated to the Children's Advocacy Center of Northeastern Pennsylvania (CAC). The center provides specialized services for child victims of sexual assault and abuse, including advocacy, forensic interviews and forensic evaluations specific to children.
"April is Child Abuse Prevention Month and Sexual Assault Awareness Month, and National Crime Victims' Rights Week falls from April 23 to 29 this year," said Assistant Teaching Professor of Criminal Justice Rebecca Sarver, coordinator of the criminal justice program at Penn State Wilkes-Barre. "April is a month when the criminal justice students of Penn State Wilkes-Barre can raise awareness on campus while at the same time helping one of our community agencies. I used to work with a CAC in the Pittsburgh area when I worked at a domestic violence/sexual assault center, and I understand how important they are for children who are victims of sexual abuse." 
Penn State Wilkes-Barre's criminal justice program is focused on the concept of restorative justice, which concentrates on resolving harms and building relationships. Sarver said the issue of child abuse is an important one for members of the campus community and community at large to consider.
"From a restorative justice perspective, when a harm happens to one member of our community, it happens to everyone," Sarver explained. "Child abuse and its long-term consequences are everyone's concern. Victims of crime, particularly sexual crimes, are often revictimized by the criminal justice system. Child advocacy centers enable specially trained counselors, detectives and medical personnel to interview and examine children in a trauma-sensitive manner that does not revictimize them. And raising awareness about victimization on campus also helps to raise awareness for our students about services available to victims."
Alessandra Ayoub, a sophomore criminology major, was one of the students who helped collect pledges for the pinwheel garden.
"As soon as Dr. Sarver explained to us what Pinwheels for Prevention was, I knew I wanted to be a part of the fundraising process. Child abuse prevention is something that I am very passionate about," she said. "Children may not even realize they are being abused, they may be afraid to speak up, or they may not want to get their abuser in trouble. Many different factors may contribute to why a child may not speak up. When the child does speak up or when someone intervenes, it's important for that child to have all the resources they need. It is an important subject to raise awareness for. If more people know about it, know the signs and are more willing to talk about it, then it can save child sexual-abuse victims from so much unnecessary pain."
Criminal justice students at Penn State Wilkes-Barre also support other initiatives to benefit community organizations. Last year, the students put together care kits for victims of sexual assault as part of Project Beloved. The program will also support the CAC when criminal justice faculty attend the organization's casino gala later this month.
"Events and programs like these help build and strengthen our relationships with surrounding communities," Sarver said. "This is another integral part of restorative justice: strong relationships make a strong web of connections. A strong web reinforces prosocial norms and can help to reduce crime. Activities like these help reinforce and demonstrate the restorative justice principles we teach our criminal justice students in class."