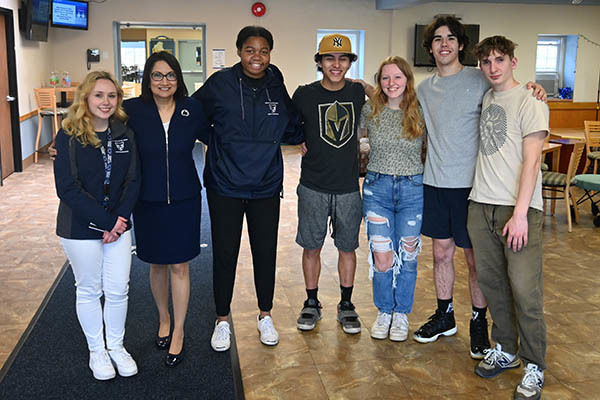 Editor's note: This spring, Penn State President-elect Neeli Bendapudi is traveling the commonwealth as part of a listening and learning tour to meet and engage in conversation with students, faculty, staff and community members at each Penn State campus.
WILKES-BARRE, Pa. — President-elect Neeli Bendapudi visited Penn State Wilkes-Barre on Friday, April 8, as part of her listening and learning tour to meet with students, faculty and staff across Penn State's campuses. During her visit to the campus, Bendapudi met with campus leadership, faculty, staff and students and toured Penn State Wilkes-Barre led by student Lion Ambassadors.
She shared her appreciation for the University's Commonwealth Campuses, along with her passion for instilling academic preparedness and a sense of belonging in students while ensuring the affordability of a Penn State education.
Calling them the ABCs (Academic preparedness, Belonging and Cost), Bendapudi said, "Academic preparedness goes from advising to the classroom to beyond. Are we preparing students for a job? Are we preparing them to be good students? Are we preparing them for civic engagement?"
"B stands for a sense of belonging," she continued. "No matter who you are, it doesn't matter. We belong here just as much as anyone else. Penn State is not 'I am,' it's 'we are.' And C, for cost of attendance, means we need to do whatever we can to make it possible for our students to attend and make the most of their time here."
"If you've seen one Commonwealth Campus, you've seen one," Bendapudi said, noting how she has noticed each campus' unique attributes during her tour.
While speaking with students, Bendapudi told them how the Commonwealth Campuses played a major role in her decision to accept the position of Penn State's next president. She pledged to support the campuses during her time as president.
"I love the Commonwealth Campuses. Ninety-six percent of the people of Pennsylvania live within 30 miles of one of our campuses. If you want to really have an impact on an entire state of our country, what could be more powerful than the Commonwealth Campuses?" she said. "As leaders, we want to know how we keep these campuses thriving and strong."
Bendapudi will begin her tenure as Penn State's 19th president on May 9.
With a nearly 30-year career in academia, Bendapudi previously served as president of the University of Louisville. Among her leadership experiences, she also has served as provost and executive vice chancellor at the University of Kansas, dean of the School of Business at the University of Kansas, and as founding director of the Initiative for Managing Services at the Ohio State University.
In addition to consulting for some of the world's largest companies and organizations, she was the executive vice president and chief customer officer for Huntington National Bank.
With a research background in the study of consumer behavior in service contexts, she has taught marketing at a variety of higher education institutions and been recognized for her leadership, academic and teaching accomplishments. Bendapudi earned her bachelor's degree in English and master of business administration degree from Andhra University in India and her doctorate in marketing from the University of Kansas.