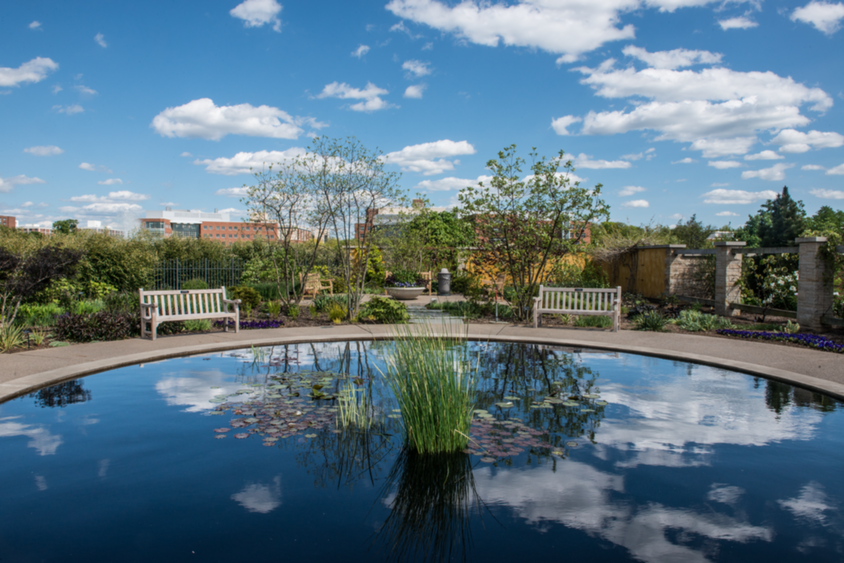 UNIVERSITY PARK, Pa. — Earlier in 2021, in response to the pandemic and no spring break, Penn State implemented several formal Wellness Days in order to give students, faculty and staff the opportunity to attend to their physical and emotional wellness. 
Many wellness efforts continue across Penn State, in administrative and academic units, at colleges and campuses, and even in individual courses. 
"There have always been efforts to improve the well-being of our Penn State community, but the pandemic showed how important those efforts can be," said Yvonne Gaudelius, vice president and dean for Undergraduate Education. "It's impressive to see the ongoing work and new efforts that continue to be developed in support of health and wellness." 
Here is a look at some of the wellness efforts underway at Penn State. 
Penn State Dickinson Law serves a tight-knit group of about 260 students, said Julie Cullings, assistant director of student services.  
She said law school can be a stressful at times, and Dickinson Law tries to offer routine wellness events that are easy for students to take advantage of. As part of "Wellness Wednesday" activities, students are able to take wellness walks led by faculty and staff as a way to get to know students better outside the classroom. Some Wednesdays feature a "Tea Time in the Commons" for students to grab some free tea and snacks between classes. Other events include yoga, an underground railroad history tour by the local historical society, and a pancake dinner that is planned for Dec. 3. 
In the Division of Undergraduate Studies, Joan Miller, academic adviser and program coordinator, shared how the unit is engaged in staff wellness. Their wellness program, styled #HealthyDUS, features three activities per month from one of nine dimensions of wellness: physical, creative, cultural, intellectual, financial, occupational, social, environmental and emotional. Some events are as simple as a potluck or trivia over Zoom. For other events, DUS will host a guest from a college to lead a walk, or staff from Health Promotion and Wellness to share mindfulness techniques and gratitude practices to reduce stress. 
"This focus on wellness not only helps to keep everyone healthy in many ways but goes a long way toward building a healthy community workplace," Miller said. 
On Oct. 15, Penn State Wilkes-Barre hosted Mental Health Awareness Day, with several events held at midday. Students had the opportunity to learn about the link between exercise and nutrition and mental health, play games, decorate pumpkins and undergo stress screenings, among other events. 
"Everyone should incorporate self-care activities into their daily routine to help improve their stress management and quality of life," said Melisa Littleton, assistant teaching professor and coordinator of the Rehabilitation and Human Services program at Penn State Wilkes-Barre. "Unfortunately, many people think engaging in self-care is being selfish and they may have feelings of guilt associated with taking time for themselves, but we know there are so many benefits to psychological well-being." 
In addition to wellness programs available to staff, faculty and students outside of class, some instructors are incorporating wellness into their curricula. Yi-Ting Chang bakes wellness directly into the WMNST 100 course she's teaching by focusing on methodologies of care. This goes beyond personal care and considers all of the factors that affect a person's wellness, all the way up to societal structures such as racism and compulsory heterosexuality, Chang said. It also means not ignoring the "unwell realities" such as exhaustion, depression and anxiety.  
"I think it's important for my students and I to be honest about what kind of current circumstances we live in and be honest about the uncertainty, the draining, the exhaustion and the structural inequality that all feeds into that," Chang said. 
Chang is a doctoral candidate in English and women's, gender and sexuality studies at Penn State. She credited previous mentors in helping her think about methodologies of care, particularlyJon Thompson and Allen Stein, of North Carolina State University; and Tina Chen, professor of English and Asian American Studies at Penn State; and Mariana Ortega, associate professor of philosophy and women's, gender and sexuality studies at Penn State. 
Her WMNST 100 course is nontraditional; there are no midterms or final exams. The final project will see students create a feminist care package at the end of the semester that is to include something of their own creation, a note card to explain a concept or term they learned from the course, a symbolic item, and a letter to the recipient of the care package explaining all of the objects they included.  
Chang said she also strives to give people the opportunity to express themselves in different ways and using their different senses. Much of university education focuses heavily on reading, and this can work against some students whose best mode of learning isn't through textual analysis. A major part of the course, Chang said, focuses on ableism and disability. 
Resources for all students 
Penn State Student Affairs offers a wealth of services and resources to support students' physical and mental health, spiritual wellness and social connection. 
Health Promotion and Wellness offers wellness appointments with peer educators, covering topics such as relationships and sexual health, nutrition and healthy eating, physical activity, sleep and stress. Scheduling can be done through myUHS. Health Promotion and Wellness also has wellness events scheduled throughout the rest of the fall 2021 semester, including yoga and meditation, mindful Monday pause, well-being Wednesdays and more. 
With exercise being an important part of wellness and stress management, Campus Recreation offers fitness classes, gym equipment, intramural sports and other opportunities. 
Students seeking spiritual wellness can contact the Penn State Center for Spiritual and Ethical Development. Housed in the Pasquerilla Spiritual Center, the center is a safe, inclusive environment and promotes an appreciation and respect for religious and spiritual diversity. Find religious and spiritual programming and contact information for local houses of worship. 
Counseling and Psychological Services offers Life Hack Kits, which are step-by-step wellness packages designed to help students "navigate and demystify some of the more perplexing parts of being human." CAPS also has a virtual library of self-help resources.  
Collegiate Recovery Community provides support for students going through recovery. This community provides seminars and self-help materials. Participants of the Collegiate Recovery Community also can apply to live in ROAR (Residence on Addiction Recovery) House.  
Students are encouraged to check the Student Affairs Events calendar for upcoming events.