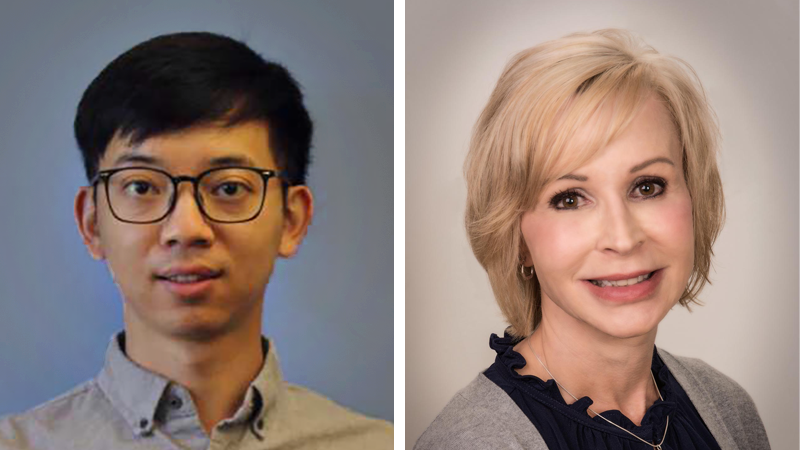 DALLAS, Pa. — Deyu Pan and Rebecca Sarver have joined the faculty at Penn State Wilkes-Barre, Chancellor Dale Jones announced.
Pan has been named assistant professor in rehabilitation and human services (RHS), and Sarver has been hired as assistant teaching professor in criminal justice and criminal justice program coordinator.
"We welcome both new faculty members and the experience they bring to Penn State Wilkes-Barre," Jones said. "We eagerly anticipate the contributions they will make toward their students' educational and professional goals."
Deyu Pan
Pan said he knew of Penn State's reputation for quality programs in rehabilitation education and appreciated Penn State Wilkes-Barre's campus size and ability for faculty-student interaction.
"It's a small campus that has engaged students and offers research opportunities not typically available to a smaller school," he said. "It's great to have University Park's resources for research, both for faculty and students."
He will teach RHS courses while conducting scholarly research, engaging students in research and guiding students on their own research projects.
Pan said he wants to get students involved in research and aid them in getting experience in their field.
"I want to promote students' research competency and help them become quality consumers of research in the rehabilitation field," he said.
Pan praised the students he has already gotten to know at Penn State Wilkes-Barre, saying, "The students are very motivated to learn new things and very open to new ideas. They are engaging in positive class discussion and activities and are well prepared in terms of their skills."
He plans to help students get involved in local service projects to benefit both their education and the community. Pan himself helped orchestrate a community project as a volunteer with the Iowa City Senior Center during the first few months of the pandemic.
"While I was working at an internship as part of my master's degree program, the instructor of that class had already established a relationship with a local senior center," Pan recalled. "When COVID hit, they found a lot of people in the senior community who had gone to the senior center before COVID were totally isolated. They weren't seeing family members or friends or going to the senior center like they did before."
To assist seniors who may have had trouble with the technology that enabled others to connect during the pandemic, he was part of a group that introduced the Coronavirus Anxiety Chat Line, a dedicated phone service with the goal of providing counseling services to seniors to reduce their social isolation and improve their mental health.
"In the beginning, the chat line was to reach out to them to provide education about COVID and to help prevent them from getting COVID," Pan said. "Later, we found that just by checking in with them, they felt very supported and wanted to share things when they were experiencing difficulty."
The group also worked to teach the seniors how to use technologies like Zoom and Skype so they could keep in touch with their family and friends.
Pan earned a doctorate in counselor education and supervision and a master's degree in rehabilitation counseling, both from the University of Iowa. He holds a master's of philosophy in education in professional counseling and a master's degree in counseling and mental health services, both from the University of Pennsylvania, and a bachelor's degree in applied psychology from Renmin University of China.
He is a certified rehabilitation counselor with the Commission on Rehabilitation Counselor Certification and a national certified counselor with the National Board for Certified Counselors. He holds memberships with the American Counseling Association, American Rehabilitation Counseling Association, Association for Counselor Education and Supervision, and National Council on Rehabilitation Education.
Pan has co-authored several publications on rehabilitation and made presentations at conferences offered by the National Council on Rehabilitation Education, the NCRE/RSA/CSAVR National Rehabilitation Education Conference, the Association for Counselor Education and Supervision, and others.
Rebecca Sarver
Sarver was familiar with Penn State Wilkes-Barre through her husband, Assistant Professor of Criminal Justice Jeremy Olson.
"My husband and I wanted to build a restorative justice program and this enables us to do this," Sarver said. "He has always had such wonderful things to say about Penn State Wilkes-Barre. I love the small campus and being able to really get to know the students and connect."
Restorative justice focuses on repairing emotional, physical and mental harms and building relationships rather than enforcing punitive measures.
"My goal is to help my students go into the world and change the world for the better. Restorative justice offers an opportunity to fix some of the things that are wrong in the system right now," Sarver said. "One of the things I like most about the concept of restorative justice is the philosophy that we are all connected, close and from a distance. What happens to one person really happens to everybody, so we should care."
As program coordinator, Sarver will oversee the criminal justice program, teach courses, supervise student internships and prepare students for their internships.
"One of my goals is to get out in the community and get more opportunities for our students," she said. "There are great opportunities for students to learn out in the field, including places like domestic violence centers and police departments. Internship experience is a valuable part of students' education."
Sarver earned a doctorate in sociology – administration and leadership studies, a master's degree in adult and community education, and a bachelor's degree in rehabilitation education, all from Indiana University of Pennsylvania.
Prior to coming to Penn State Wilkes-Barre, she taught as a lecturer in the human services program at Elmira College. She also worked as an adjunct instructor at Elmina College and Seton Hill University and as a special topics instructor for the Westmoreland County Community College Police Academy, instructing Act 120 cadets on sexual assault and domestic violence modules with regard to victim experience.
Sarver also held professional positions in the human services field, including the role of advocacy program manager for the Blackburn Center in Greensburg, where she managed the operations of the Advocacy Program for Domestic Violence and Sexual Assault service center of Westmoreland County and educated on domestic violence and sexual assault issues, and a position as clinical director of S'eclairer in Delmont, where she oversaw the operations of the private psychiatric and opioid treatment practice, including conducting individual therapy sessions with adults experiencing substance abuse and mental health issues.
She served with the Pennsylvania Army National Guard, attaining the rank of E-4. She is an honor graduate of the Army Signal School and received the Army Individual Achievement Medal and the General Douglas Stewart Medal.
Sarver and Olson have authored several publications on restorative justice, including "How Restorative Are You? Introducing the Restorative Index." She was accepted to speak at the Academy of Criminal Justice Science's annual meeting three times and this year presented "Is the harm to happiness? A vision for integrating positive psychology, criminal justice, and restorative justice."