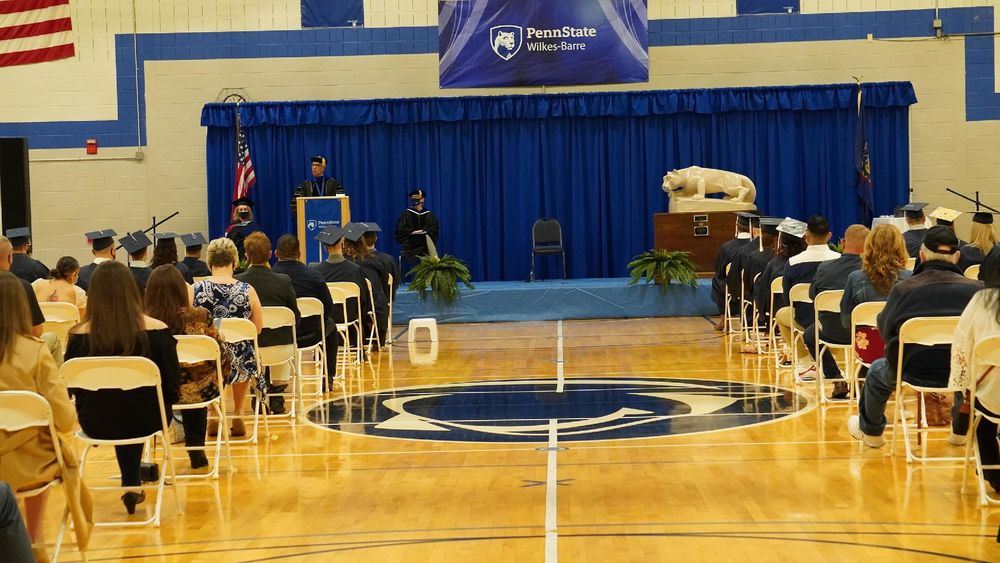 Penn State Wilkes-Barre granted academic degrees and certificates during the commencement ceremony May 8 in the campus' Athletic and Recreation Building.
Speakers for the event were Dale Jones, chancellor and chief academic officer; Jill Schwartz, chair, Penn State Wilkes-Barre Advisory Board; Lynda Goldstein, associate professor of English and associate chief academic officer; Aidan Joyce, valedictorian; and Jonathan Sinclair, president of the Penn State Wilkes-Barre Alumni Society.
Student marshals were Aidan Joyce and Elijah Bennett, both earning bachelor of science degrees in electrical engineering technology.
Students earning degrees included:
Bachelor of science in administration of justice: Jacob Bukofski, Glen Lyon; Derrick Denman, Kingston; Kyle Poepperling, West Pittston; Kerlyn Rodriguez, Wilkes-Barre; and Crystal Walega, Carbondale.
Bachelor of arts in administration of justice: Jonathon Derhammer, Courtdale; Donald Thomas, Clementon, New Jersey; and Jack Van Horn, Lake Ariel.
Bachelor of science in business: Rachael Cochran, Trucksville; Bianca DiFebo, Nanticoke; Jahquan McIntosh, Edwardsville; Matthew Nelson, West Pittston; Carlos Novelo, Wilkes-Barre; Samantha Panagakos, Nanticoke; Veronica Smith, Wyoming; and Corey Weaver, Dallas.
Bachelor of science in electrical engineering technology: Elijah Bennett, Laceyville; James Farrell, Wyoming; Aidan Joyce, Pittston Township; John Shaver, Dallas; Steven Welsh, Bloomsburg; and Sean-Paul Williamson, Wilkes-Barre Township.
Bachelor of science in English: Kaci Grabowski, Nanticoke.
Bachelor of science in information sciences and technology: Aqeel Bacchus, Wilkes-Barre; Jarod Blockus; Dallas; Noah Howe, Williamsport; Erin Senese, Pittston; Jennifer Sgroi, Wyoming; Robert Swida, Shavertown; Joseph Vu, Exteter; and Dillon Wilbur, Kingston.
Bachelor of science in project and supply management: Logan Basecki, Shavertown.
Bachelor of science in rehabilitation and human services: Steven Coley, Dallas; Alexa Davis, Shavertown; Evelyn Hosey, Noxen; and Joselyn Mondragon, Wilkes-Barre.
Bachelor of science in surveying engineering: Donald Bara, Tunkhannock; Matthew Bogue, Clarion; David Neilson, Milton; and Ayden Yoder, Milton.
Associate in engineering technology: Claire Hamilton, Bakersfield, Calif.; Maxwell Materazzi-Hatala, Old Forge; Harry Miles, Wilkes-Barre; and Daniel Zacharias, Monroe Township.
Students who earned certificates were:
Enterprise resource planning certificate: Joe Shafer, Pittston; and Hannah Witherite, Madison Township.
Supply chain management certificate: Michael Klein, Hanover Township; Alyssa Manento, Scranton; and Kristina Oakley, Jessup.