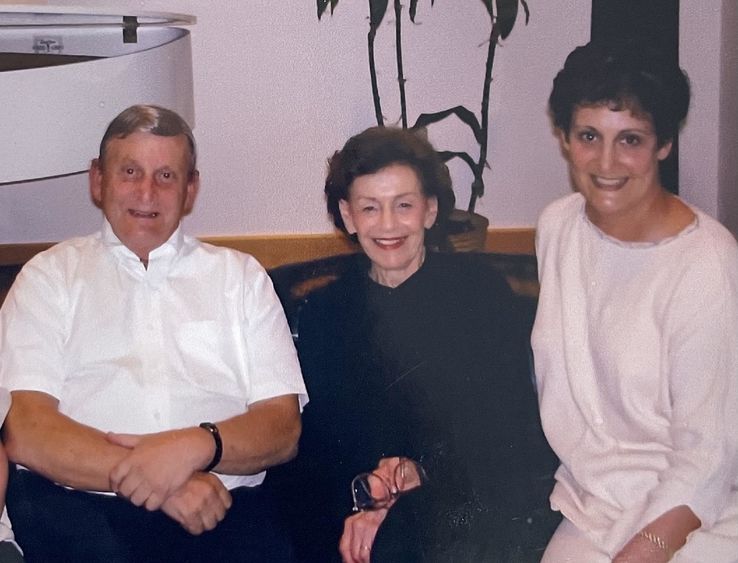 When Robert and Shirley Fortinsky became involved with Penn State Wilkes-Barre, they established the beginning of a legacy that is now in its third generation.
The foundation laid by alumnus Robert Fortinsky, 1947, and Shirley Fortinsky, who was named a 2001 Honorary Alumni Award Recipient by the Penn State Alumni Association, has been continued by their daughter, Jill Schwartz, who serves as chair of the campus advisory board, and granddaughter, Kady Schwartz, a member of the advisory board.
"The Fortinsky family has a long-standing history with Penn State Wilkes-Barre and the surrounding community," said Chancellor and Chief Academic Officer Dale Jones. "They have deep giving and service roots with our campus and we are so appreciative of their passion for supporting our students."
Robert Fortinsky, who died in 2012, and Shirley Fortinsky, who died in 2017, were residents of Kingston. They created several scholarships at Penn State Wilkes-Barre, beginning in 1991 and growing to include a total of five endowments: the Jacob and Dora P. Fortinsky Endowed Scholarship, the Shirley and Robert Fortinsky Endowed Scholarship, the Harold P. Fortinsky Endowed Scholarship, the Robert and Shirley Fortinsky Trustee Scholarship and the Robert and Shirley Fortinsky Discretionary Fund for Penn State Wilkes-Barre. They also made contributions at University Park and Penn State Hershey and were inducted into the Mount Nittany Society in 1985. 
Robert Fortinsky served on the University's Board of Trustees and the advisory board at Penn State Wilkes-Barre. He co-chaired the campus "The Campaign for the Academic Commons" and chaired the northeastern Pennsylvania campaign for the Chaiken Family Chair in Jewish Studies. Robert was honored as a Penn State distinguished alumnus, the University's highest award for an outstanding graduate, in 1999.
The Fortinskys passed their love of Penn State — and their knowledge in a family business — on to their daughter, Jill.
Robert's parents and grandparents made their living in the weaving business, and after earning his degree in chemical engineering from Penn State, he returned to northeastern Pennsylvania and established his own textile mill. He founded Wyoming Weavers and Fortune Fabrics, which Jill heads today.
"My father realized many people weren't able to go to college and felt he could support and help them. He was a self-made man who always wanted to give back," Jill said. "He passed that feeling of philanthropy on to his two children and seven grandchildren, two of whom — my children — are in business with me today."
Her father nominated Schwartz as a member of the campus advisory board, and she was happy to accept the nomination.
"My parents were wonderful people who were kind and considerate and cared about their community," Schwartz said. "I loved and adored my father. When he nominated me to be on the board, there was no doubt in my mind that is what I would do because he felt so strongly about it. It was a joy going to the meetings together. It's hard to follow in his footsteps but I try very hard."
Today, in addition to chairing the campus advisory board, Jill also co-chairs the campus "A Greater Penn State For 21st Century Excellence" campaign committee. She has also created several endowments and scholarships at Penn State Wilkes-Barre.
"When you have role models like my parents, it's so easy to want to be involved," Schwartz said, noting that her parents were both involved with numerous local boards and organizations. "It's very meaningful attending the annual scholarship dinner and hearing from college students who receive scholarships. To me, that makes it worthwhile."
As her father did in her case, Schwartz nominated her daughter, Kady, to the campus advisory board and enjoys seeing her father's legacy continue.
"Kady is very involved and has a lot of good ideas and initiative," Jill Schwartz said. "There was no doubt in her mind she would be involved with Penn State also."
Jones said seeing the family continue its involvement to the third generation is inspiring.
"The Fortinskys and the Schwartzes have epitomized the spirit of Penn State and are true philanthropists. They give because they love Penn State and they love to help students," Jones said. "It has been an honor to get to know them and witness their legacy with our campus. We are so grateful for all they have done and continue to do for Penn State Wilkes-Barre and our community."
"A Greater Penn State for 21st Century Excellence" is a focused campaign that seeks to elevate Penn State's position as a leading public university in a world defined by rapid change and global connections. With the support of alumni and friends, "A Greater Penn State" seeks to fulfill the three key imperatives of a 21st-century public university: keeping the doors to higher education open to hardworking students regardless of financial well-being; creating transformative experiences that go beyond the classroom; and impacting the world by serving communities and fueling discovery, innovation and entrepreneurship. To learn more about "A Greater Penn State for 21st Century Excellence," visit greaterpennstate.psu.edu.