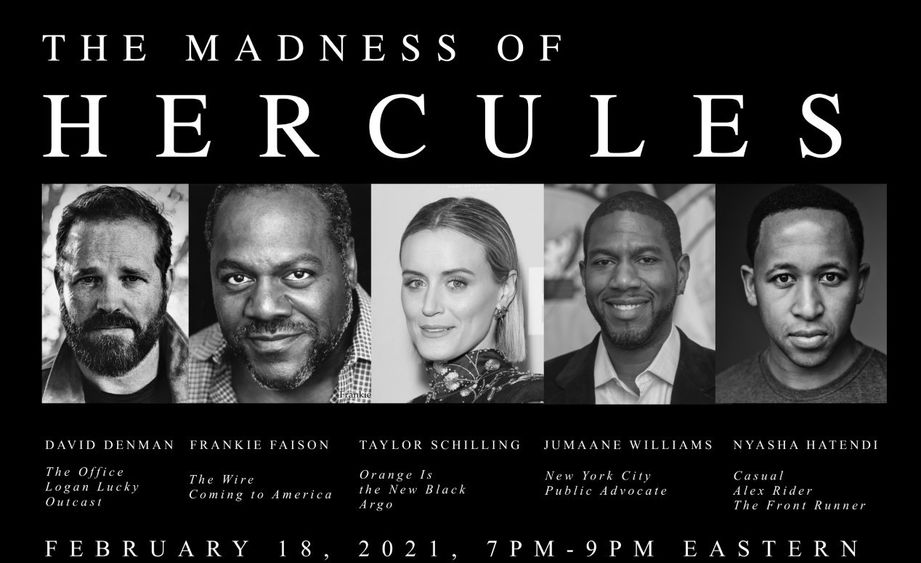 Hercules is coming to Pennsylvania in a rendition of a Theater of War production that gained attention during its run in New York City in 2016. Now, you can join Penn State Wilkes-Barre in viewing a staged reading of "Madness of Hercules," designed to guide the community in understanding and responding to acts of gun violence. This virtual event is open to the public and free to view with registration.
Translated and directed by Bryan Doerries, "Madness of Hercules" tells the story of the famed Greek demigod as he returns home to the city of Thebes, only to find that his home is being occupied by a local tyrant. With his invincible bow, Hercules takes on the task of freeing his family. However, in the heat of battle, Hercules loses sight of the true enemy, taking the lives of everyone in sight, including those of his wife and children. After realizing what he has done, Hercules finds support from his friend and fellow war veteran, Theseus, who encourages Hercules to share the weight of what he has done with the community.
Telling the tale of Hercules will be David Denman (The Office), Frankie Faison (The Wire), Taylor Schilling (Orange Is the New Black), Jumaane Williams (New York City Public Advocate) and Nyasha Hatendi (The Front Runner and Casual).
Following the reading, a discussion will be hosted to answer the profound questions surrounding how we, as a community, should respond to acts of violence, and how we can prevent this violence from happening all together. Leading the discussion will be a number of community leaders, activists and victims of gun violence.
The presentation is sponsored by Penn State Wilkes-Barre, Penn State Beaver, PA Cyber Charter School, Lincoln Park Performing Arts Charter School and Humanities Institute.
"Madness of Hercules" will be held virtually from 7 to 9 p.m. Feb. 18. To learn more about Theater of War Productions, visit https://theaterofwar.com/about.