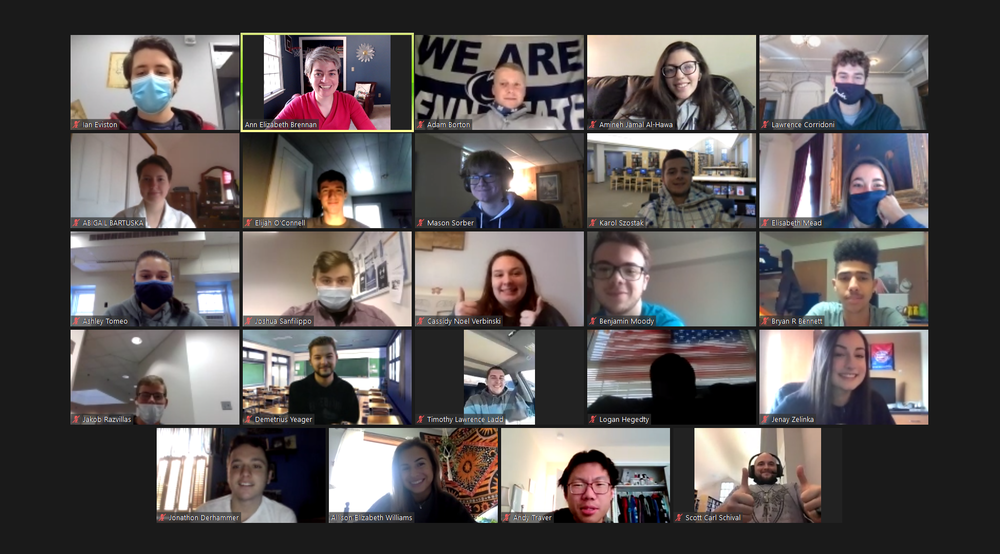 Penn State Wilkes-Barre Associate Teaching Professor of English and Assistant Chief Academic Officer Ann Brennan has been named "Best College Professor" by a local publication.
Brennan was selected for the honor in the Times Leader Media Group's Best of the Back Mountain Readers' Choice Awards, the third year she has received the award.
"It's an honor to win the Best of the Back Mountain College Professor of the Year Award. I grew up in Dallas, Pennsylvania, and the Back Mountain is very important to me; therefore, it's particularly meaningful to win this hometown award," Brennan said.
The awards were given in more than 90 categories in which Times Leader Media Group readers cast their votes. Winners received a plaque and were featured in the paper's "Best of the Back Mountain" special section.
"While my name is attached to this award, it's really a testament to all those Penn State Wilkes-Barre students I have been (and am) privileged to work with, all those students who have helped me become a better teacher and a better person," Brennan said.
Brennan said she believes teaching is a collaboration and she strives to encourage an environment of active collaboration with her students.
"I'm very fortunate that I get to collaborate with Penn State Wilkes-Barre students. They're active participants in the learning process; they're hard workers who are committed to their academic progress; they're eager explorers searching for deeper understanding of the issues that matter to them. And, most importantly, they're kind and thoughtful and generous. They inspire me and they teach me – probably more than I teach them," she said.
Brennan began teaching at Penn State Wilkes-Barre in 2009 and was promoted to assistant teaching professor in 2019 and associate teaching professor in 2020. She has served as assistant chief academic officer at the campus since 2019.
She serves as coordinator of the campus honors program, the Lion CUB Academy and Summer Start program and as an adviser for the College of Education and Department of Undergraduate Studies. Brennan holds positions with numerous University groups, including the Starfish Student Success Working Group, Sustainability Council, University College English Committee and Regional Undergraduate Research Symposium Steering Committee.
In addition to her Best College Professor recognition, Brennan has earned the Hayfield Award for Innovation, the Lion's Roar Award and the Up-and-Coming Award at Penn State Wilkes-Barre, and the Wilkes-Barre/Scranton Alzheimer's Association Power in Purple Award. She is a member of Modern Language Association, Northeast Modern Language Association, National Council of Teachers of English, Pennsylvania Council of Teachers of English and Language Arts, Association for the Study of Literature and Environment, and Pennsylvania College English Association.