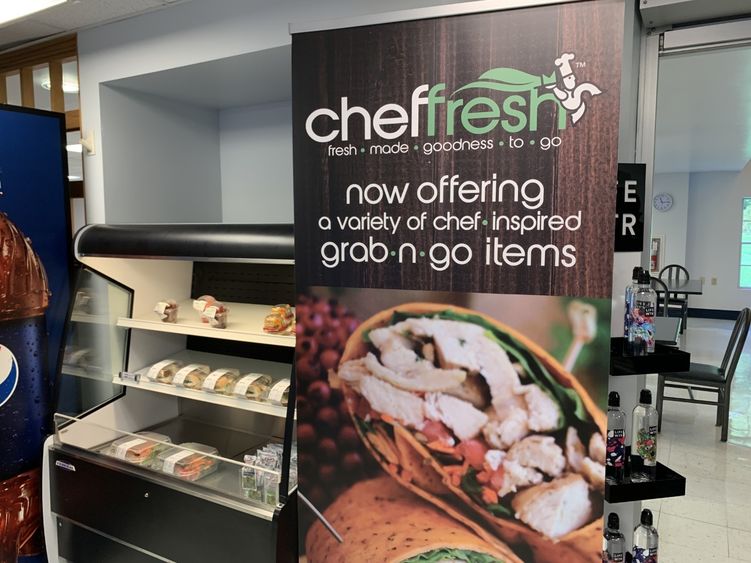 LEHMAN, Pa. — A different hot option for lunch every day? Check.
Vegan or gluten-free choices? Got it.
Want a garlic tortilla for your wrap instead of just plain or wheat? You can get that now, too.
Penn State Wilkes-Barre has revamped its dining facility and options and is now offering a new selection of fresh food. More choices are available with an expanded variety of healthier options and new items.
The improved dining area features a grill station, a made-to-order deli, a made-to-order sandwich station, pizza, and Starbucks coffee. It also includes items already made and placed out for sale for students looking to grab something to eat on the go.
Mark Tranguch, Penn State director of Housing and Food Services, said, "We really focused on giving Penn State Wilkes-Barre students what they were looking for, including more of a Penn State feel in the dining center. Our students were looking for different menu selections and special choices such as holiday-themed meals, and we're glad to be able to offer those now."
Dallas-based Metz Culinary Management is the new campus food provider. The company also supplies food to the New Kensington, Abington, DuBois, Fayette, Shenango, York, Scranton and Schuylkill campuses, along with a number of colleges along the East Coast.
Mike Tokarek, senior area manager for Metz Culinary Management, said, "We bring a fresh approach to college dining with items made from scratch in-house. We handpick farmers and food processors to get the freshest, certified quality produce, meat, raw ingredients and food products."
The dining area has undergone cosmetic improvements and reconfiguration to help the ordering and payment lines flow more smoothly. The improvements include repainting and resurfacing, new digital signage outside the cafeteria and new stationary signage that directs traffic through the register line.
In light of the pandemic, numerous precautions have been established throughout the dining facility. Each team member and manager will be tested for COVID-19 before the start of school and several employees will be chosen at random each week for testing. Every employee will have their temperature taken before work each day and all employees throughout the dining facility will wear face masks and gloves. The area also has a reconfigured layout that encourages social distancing. The cashless, contactless payment system accepts all major credit cards, LionCash+ and the commuter meal plan.
"We are also taking the extra steps and frequently disinfecting all high-contact points and high-touch areas, such as cooler doors, countertops and credit-card readers," Tokarek said.
Students, faculty and staff are welcome to make requests for new menu items. Those following special diets, including vegetarian, vegan and gluten-free, or those who have food allergies or sensitivities can also make requests. All special requests can be made at the campus dining site so the dining team can work to accommodate their needs.
The café will be open from 11 a.m. to 2 p.m., Monday through Friday.