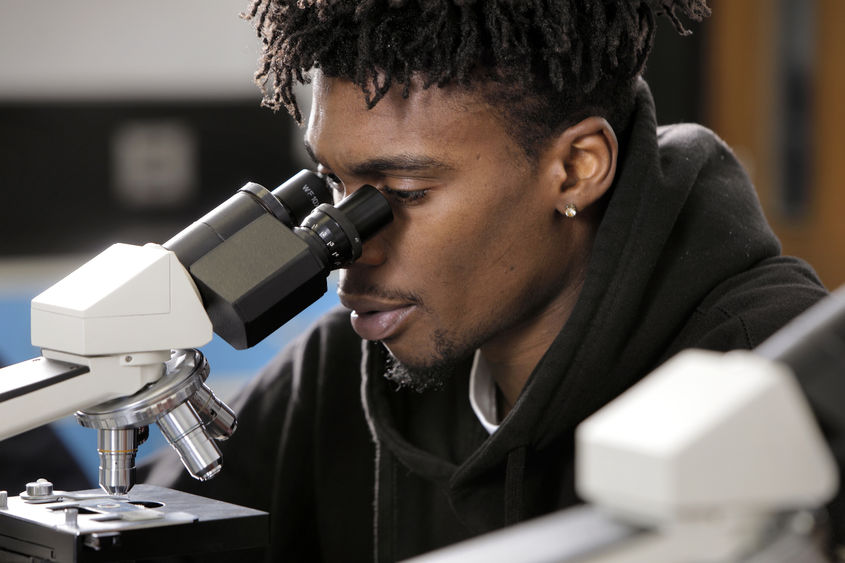 LEHMAN, Pa. — Penn State Wilkes-Barre has announced the students named to its spring 2020 Dean's List. To be eligible, full-time undergraduate students must achieve a one-semester grade point average of 3.5 or higher. The following students are being recognized for their academic excellence in making the list: 
​Mahdee Abuelhawa, Pringle 

Donjeta Ahmetaj, Kingston 

Amineh Al-Hawa, Kingston 

Angelena Allen, Dallas 

Aiyman Alsibae, Bensalem 

John Armstead, Browns Mills, New Jersey

Stephanie Backovic, Dallas 

Corey Barber, Kingston 

Andrew Barney, Larksville 

David Bartos, Plymouth 

Abigail Bartuska, Hunlock Creek 

Logan Baseski, Shavertown 

Bryan Bennett, Dallas 

Elijah Bennett, Laceyville 

Isaac Bennett, Laceyville 

Connor Beyer, Dallas 

Sandon Birch, Clarks Summit 

Stephane Blain, Dallas 

Audrey Blessner, Dallas 

Danielle Bowman, Shickshinny 

Emma Brieling, Plains 

Jacob Bukofski, Glen Lyon 

Joel Carpenter, Hartford, Connecticut

Benjamin Cebula, Hughestown 

Alijah Chamberlain, Shickshinny 

Caden Charnetski, Elmira, New York

Joshua Christ, Pittston 

Rachael Cochran, Trucksville 

Steven Coley, Dallas 

Lawrence Corridoni, Pittston Township 

Sean Craven, Larksville 

Helen Cummings, Bethlehem 

Kate Dalrymple, Berwick 

Michael D'Angelo, Exeter 

Alexa Davis, Shavertown 

Jonathon Derhammer, Courtdale 

Bianca DiFebo, Nanticoke 

Maggie Dow, Hunlock Creek 

Darielis Duarte, Wilkes-Barre 

Sarah Dule, Hanover Township 

Evan Elko, Pittston Township 

Gregory Ellsworth, Factoryville 

Ian Eviston, Wyoming 

Christy Fairchild, Saint Johns, Michigan

James Farrell, Wyoming 

Cole Fenstermacher, Hawley 

Brandon Fino, Wyoming 

Joseph Fioti, Shavertown 

Pablo Franco Almonte, Wyomissing 

Dylan Fredricey, Larksville 

Donovan Gaffney, Pringle 

Edward Galonis, Pittston Township 

Paul Gestl, Pittston 

Kaci Grabowski, Nanticoke 

Shaun Gurnari, Wilkes-Barre 

James Herceg, Shickshinny 

Cristopher Herrera Urena, Liberty Hill, Texas 

Evelyn Hosey, Noxen 

Noah Howe, Huntington Mills 

Zachary Humenick, Mountain Top 

Andrew Janosky, Dallas  

Olivia Johnson, Yatesville  

Aiden Joyce, Pittston Township 

Andrew Jubis, Shickshinny 

Zack Kalna, Shavertown 

Jason Kepner, Hughesville 

Luke Kepner, Hughesville 

Brad Killian, Scranton 

Marc Kolendowicz, Larksville 

Luke Kreller, Sweet Valley 

Ethan Krzysik, Dallas 

Colin Kultys, Larksville 

Edward Kupstas, Edwardsville 

Timothy Ladd, Wyoming 

Verena Lake, Roosevelt, New York

Brittney Ledgister, Wilkes-Barre 

Claudia Leu, Harveys Lake 

Camaryn Lokuta, Avoca  

Grant Loose, Kingston 

Dillon Major, Shavertown  

Robert Mastropole, Mahopac, New York

Maxwell Materazzi-Hatala, Old Forge 

Nicholas McGlynn, Pittston 

Sarah McHale, Forest City 

Jahquan McIntosh, Edwardsville 

Elisabeth Mead, Dallas 

Arthur Menichini, Pittston 

Andrew Menig, Dallas 

Joshua Mesaris, Pittston 

Amber Miller, Shickshinny 

Jack Miller, White Haven 

Zachery Minarik, Wyoming 

Noah Mirro, Larksville  

Joselyn Mondragon, Wilkes-Barre 

Benjamin Moody, Wilkes-Barre 

Sheila Moreira, East Stroudsburg 

Jon-Nelson Nacar, Great Neck, New York

Justin Navedo, West Pittston 

Samantha Nay, Ashley 

Carlos Novelo, Wilkes-Barre 

Heather Orr, Tunkhannock 

Samantha Panagakos, Nanticoke 

Vincent Pavill IV, Shickshinny 

Syndia Perez, Wilkes-Barre 

Quishbel Pichardo, Paterson, New Jersey

Tyler Pokrinchak, Nanticoke 

Ryan Price, Kingston 

Carlos Quezada, Stanhope, New Jersey

Jakob Razvillas, Kingston 

Autumn Resauit, Swoyersville 

Rachel Ricker, Dallas 

Leeandra Ricks, Brooklyn, New York

Juneil Ritter, Hughesville 

Matthew Roberts, Wyoming 

Armando Rodriguez, Dallas 

Kerlyn Rodriguez, Wilkes-Barre 

Alixsandria Rovinski, Exeter 

Sehara Rowles, Tunkhannock 

Gerald Rusek, Kingsley 

Joshua Sanfilippo, Kingston 

Erin Scafella, Laurel Run 

Malcolm Sciandra, Harding 

Erin Senese, Pittston 

Madison Severcool, Montrose 

Jennifer Sgroi, Wyoming 

Katelynn Sharp, Avoca 

Drew Shultz, Millville 

Jaike Silverberg, South Abington Township 

James Smith, Scranton 

Veronica Smith, Wyoming 

Courtney Snow, Hanover Township 

Brian Springer, Nanticoke 

Brandon Steidinger, Plymouth 

Jesse Steltz, Mountain Top 

Joseph Stretch, Laceyville 

Rafal Strzemecki, Wyoming 

Michael Stuart, Larksville 

Robert Swida, Shavertown 

Cassandra Swingle, Pittston 

Karol Szostak, Brooklyn, New York

Dylan Szychowski, Dallas  

Ashley Tomeo, Wilkes-Barre 

Sara Tomsak, Exeter 

Philip Torres, Wilkes-Barre 

Andy Traver, Hanover Township 

Jack Van Horn, Lake Ariel  

Christopher Victor, Elizabeth, New Jersey

Illia Volkovinsky, Edwardsville  

Joseph Vu, Wilkes-Barre 

Crystal Walega, Carbondale  

Michael Walsh, Larksville 

Corey Weaver, Dallas 

Sheila Weaver, White Haven 

Steven Welsh, Bloomsburg 

Jake Werner, Kunkletown 

Allison Williams, Plymouth 

Sean-Paul Williamson, Wilkes-Barre Township 

Abigail Winter, Harveys Lake 

Josh Wyandt, Dallas 

Ariauna Yeager, Mehoopany 

Demetrius Yeager, Wilkes-Barre 

Ayden Yoder, Milton 

Benjamin Yozwiak, Plains 

Daniel Zacharias, Monroe Township 

Jenay Zelinka, Kingston 

Kyle Zern, Dallas 
About Penn State Wilkes-Barre
Penn State Wilkes-Barre provides a Big Ten education with all the advantages a small campus has to offer. Students can choose the degree plan that's right for them, whether that's two years at home and two years at another campus to finish one of Penn State's 275+ degrees, or all four years at Penn State Wilkes-Barre. Eighty-five percent of students receive financial aid, including scholarships. Students will find caring faculty, undergraduate research opportunities, and experienced advisers to prepare them for the career they want.
Penn State Wilkes-Barre offers nine bachelor's degree and four associate degree programs, including the only 4-year accredited surveying engineering program in the Commonwealth, one of less than 30 in the entire United States. Started to meet the needs of the anthracite coal miners in the area, Penn State Wilkes-Barre continues to serve the community through the addition of a new bachelor's degree in project and supply chain management as well as a minor in game development.  
To learn more about the campus or to schedule a visit, contact the admissions office 570-675-9238 or go online at wilkesbarre.psu.edu/admission.