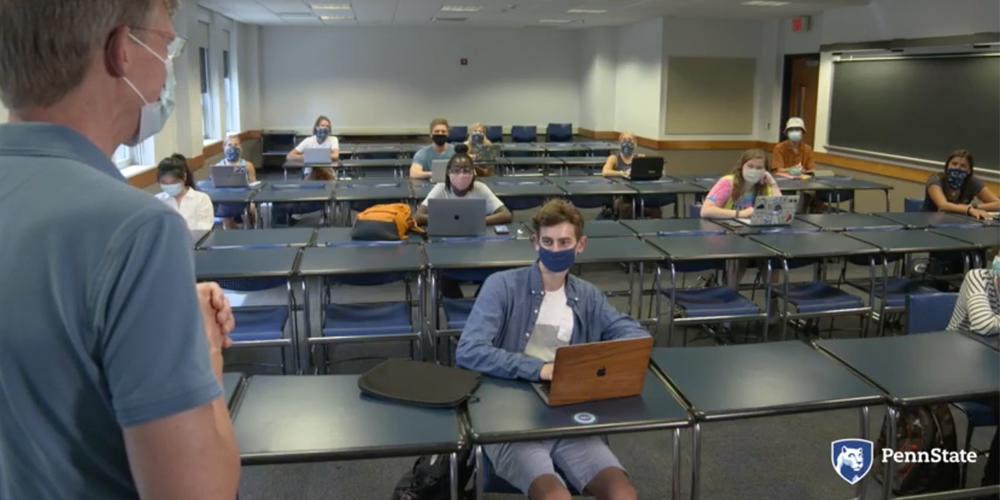 UNIVERSITY PARK, Pa. — The University has released a new PPE Policy, Classroom Management and Safety video to promote a safe return to Penn State's classrooms on Aug. 24. This video provides guidance on the use of masks and personal protective equipment (PPE) in the classroom and on campus to mitigate risk for instructors, staff and students during the COVID-19 pandemic.
Members of the Penn State community are encouraged to view the video above or at https://youtu.be/8D7Ke--JKcI.
In the video, instructors are given an opportunity to see the recommended classroom setup and effective classroom management practices during COVID-19. The video depicts strategies such as sanitizing high-touch areas and mandating that students physically distance and wear masks and PPE.
The video provides students with instructions for the proper use of masks and PPE, physical distancing and symptom monitoring, and provides greater understanding of what in-person classes will look like this fall.
The video is being shared widely as part of the University's broader "Mask Up or Pack Up" public health campaign and is meant to supplement the more detailed guidelines the University has issued for fall 2020. Students are being required to read and agree to the Penn State COVID-19 Compact, which outlines the University's health and safety requirements, as a condition for in-person learning. All members of the Penn State community can read about Penn State's multi-layered approach for minimizing the spread of the virus, as well as required personal safety practices, at https://virusinfo.psu.edu/back-to-state.
The latest information about the University's response to the coronavirus pandemic is available at virusinfo.psu.edu. The site will be updated regularly with critical information and links to key resources.