Governor cautions all, especially students, to follow practices given risk of resurgence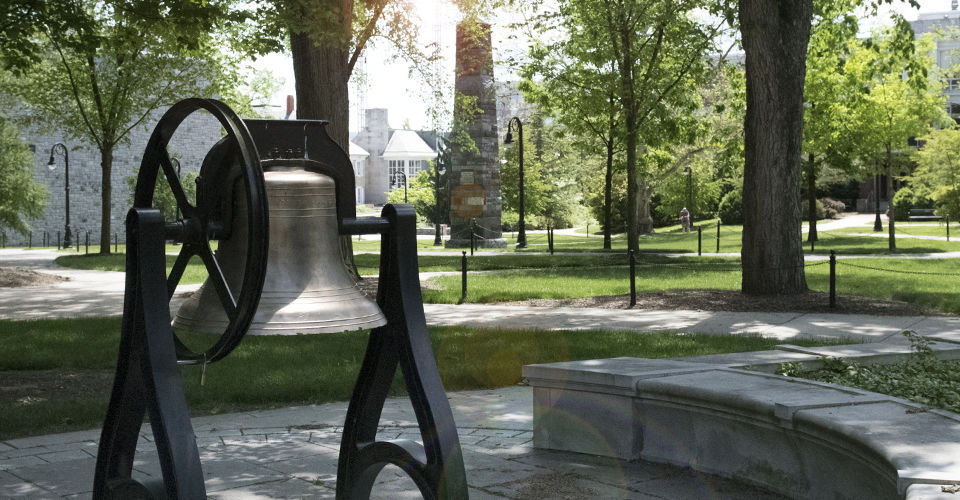 UNIVERSITY PARK, Pa. – While Penn State's plans for fall 2020 are still under consideration, the task groups working on returning students and employees to campus are planning to meet or exceed the expectations for colleges and universities announced today by the Pennsylvania Department of Education.
The roadmap for higher education institutions calls for colleges and universities to have a number of practices, procedures and public health strategies in place before they welcome students back to campuses. Penn State's task groups, particularly the Public Health and Science Assessment, Return to Work and Return to Campus and Community, have already been working to meet these guidelines spelled out by the administration of Gov. Tom Wolf.
The University will announce its plans for the fall 2020 semester by June 15.
"We're grateful to have this guidance specific to higher education and we're especially pleased that the Education Department's expectations align with what Penn State would consider essential to welcome students and employees back to our campuses," said Penn State President Eric J. Barron. "This guidance will be helpful as we continue to scenario plan and we are committed to meeting and, where possible, exceeding all of the department's expectations before we bring students, faculty and staff back to our campuses. The health and safety of our community is the priority across all of our campuses."
The guidance calls on colleges and universities to have a publicly available health and safety plan that includes information about how the institutions are coordinating with local public health officials. The plan must include strategies to safely resume in-person instruction, monitor health conditions on campus, mitigate and contain the virus on campus, and communicate accurate and timely information to students, faculty and staff. Colleges and universities must reinforce hygiene and sanitation practices on campus, require face coverings in most circumstances and implement social distancing and facility modifications to prevent the spread of the virus. The guidance also calls on institutions to adjust attendance and nonessential travel policies and modify courses, schedules and calendars to adapt to changing transmission levels.
Colleges and universities that meet these guidelines will be permitted to bring students and employees back to campus, but Wolf cautions that even institutions in counties in the green stage of his red-yellow-green phased state reopening plan may have to return to remote course delivery if individuals do not adhere to guidance, such as the need to wear face masks and practice social distancing.
"While a number of Pennsylvania counties are entering the green phase for gradual reopening, this does not in any way mean a return to 'normal;' there are still important restrictions in place and expectations that people — of all ages — will continue to employ the recommended health guidance, such as wearing a face mask and social distancing, to slow the spread of COVID-19," said Wolf.
"I'm especially troubled by reports that some students are returning to college towns and ignoring these practices," he added. "No one wants to see any portion of the Commonwealth revert to a closed operational state because of a resurgence of COVID-19. Each of us must do our part to protect community health and minimize the spread of the virus, by not gathering in large groups, wearing a face mask, maintaining six feet distance between people, and other key protections."
The University has made clear its expectations of students, faculty, staff and visitors on Penn State's campuses:
Avoid congregating in large groups. Do not gather in groups, stay out of crowded places and avoid mass gatherings.
Maintain physical distance between other people. Stay at least six feet from other people who do not live in the same household.
Wear a mask or face covering. Wearing a mask helps reduce community transmission, particularly from asymptomatic individuals. Covering your face protects other people. When other people wear masks, they are protecting you.
Avoid high-touch surfaces, especially those in public spaces. Please be aware that while every effort is made, building exteriors, benches, campus landmarks and popular spots on campus are not regularly cleaned or disinfected. Remain cautious.
Wash your hands frequently, cover your coughs and sneezes, and stay home if you're sick. The Centers for Disease Control and Prevention offers guidance on how to protect yourself and others from the spread of coronavirus.
As the University continues to scenario plan to prepare for the fall and beyond, the health and safety of campus and local communities is the primary factor behind the University's decision-making and policy changes. The scenarios under consideration by the task groups, include a hybrid fall model of partial residential/remote instruction, a condensed residential semester, reduction of large classes with an increase of small groups, livestreamed lectures, an adjusted course schedule, and remote/online learning elements, among other options.
"Penn State is a large and complex organization with nearly 100,000 students on 24 campuses across the Commonwealth, some in rural areas and some in harder hit urban areas, so our task groups are carefully and thoughtfully looking at a variety of scenarios that will work for our individual locations" said Barron. "We expect to take a phased approach. Some on-campus research activities have already resumed and, in the context of the Education Department's guidance for universities, we're looking at bringing some small cohorts of students back to campus this summer, with health and safety needs at the forefront of our planning."
For the latest updates and information on Penn State's response to the coronavirus pandemic, including an extensive FAQ and information specific for students, faculty and staff, visit virusinfo.psu.edu.