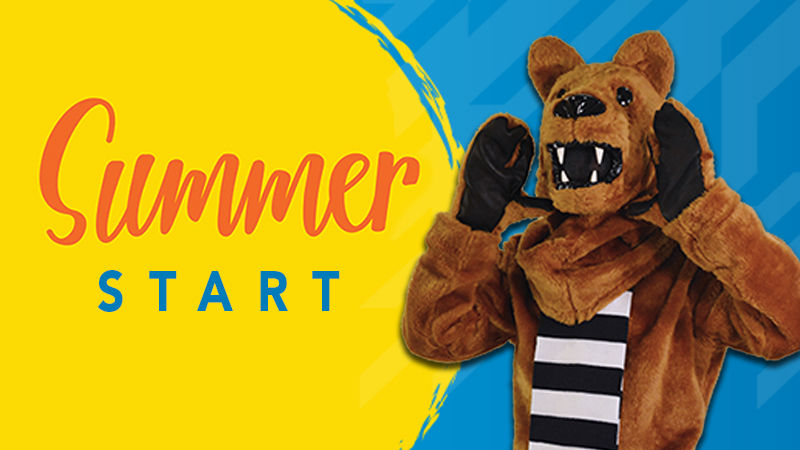 LEHMAN, Pa. — Students planning to attend Penn State Wilkes-Barre this fall can get a jump on their education and begin earning credits through Summer Start. The program is open to all incoming first-year students and provides an opportunity to earn six credits through two courses, strengthen verbal and math skills and learn about the resources and support Penn State Wilkes-Barre provides both inside and outside the classroom.
Delivered entirely remotely, Summer Start will run from July 1 to Aug. 12. Courses will take place Monday through Thursday, from 9 to 10:15 a.m. and 10:30 to 11:45 a.m. The Summer Start experience is personalized for each student, with some students receiving additional math and English support Monday through Friday from 1 to 2 p.m.
"We know many students beginning college are understandably anxious and, maybe, uncertain. We want to do all we can to meet students where they are, put their minds at ease, and welcome them to our campus," said Ann Brennan, assistant chief academic officer and coordinator of the program at Penn State Wilkes-Barre. "Summer Start makes the college transition smoother for first-year students by introducing them to faculty, staff and peer mentors who will offer assistance and guidance both now and in the future. Participants will come away with a better awareness of the breadth of services available to them at Penn State. Summer Start students will be well positioned to succeed on their academic journey."
This summer's courses are Sociology 5: Social Problems, taught by Stephanie Gresh, assistant teaching professor of business; and Game 160N: Introduction to Video Game Culture, taught by Jeffrey Chiampi, lecturer in engineering.
In addition to the courses, Summer Start students will participate in interactive sessions relating to weekly themes. Topics will include:
Joining the Penn State Family: Building your personalized Penn State experience
Academic Success: Developing the skills to succeed, from year one through graduation
Health and Safety: Taking care of your health and well-being
Resilience: Navigating challenges and growing from them
Financial Literacy: Managing your financial resources
Here's the Plan: Finalizing your personal student success plan
Summer Start also provides customized English and math assistance through Penn State's English and Math academies. Designed and delivered by Penn State faculty across the University, the academies provide content and support for developing both qualitative and quantitative reasoning and confidence. English Academy aims to strengthen reading and writing skills and to familiarize incoming students with the academic expectations for using those skills both in English classes and across the curriculum. Math Academy is tailored to various levels and includes both self-paced learning and embedded individualized guidance. At the completion of the academy, students will be able to retake Penn State's ALEKS placement exam with the possibility of placing into a higher math course.
"Summer Start gives our new students a way to get ahead by earning credits toward their degree, learning about Penn State before the fall semester, when they will surely be busier, and getting them on the road to their Penn State degree and career that much sooner," said Janine Becker, director of enrollment management. "While we are all waiting to see how education will be offered this fall, one thing is certain: a college degree, especially one from Penn State, will provide an essential tool toward helping students achieve their career goals."
The program includes courses designed for new online learners and taught by experienced and dedicated faculty. As a leader in online education for over 20 years, Penn State has the resources to support student transition to online learning and to fill any gaps that may have been created by a shortened senior year of high school.
To enroll in Summer Start or for further information, contact the Office of Admissions at 570-675-9235 or [email protected]. Scholarships are still available for this program.