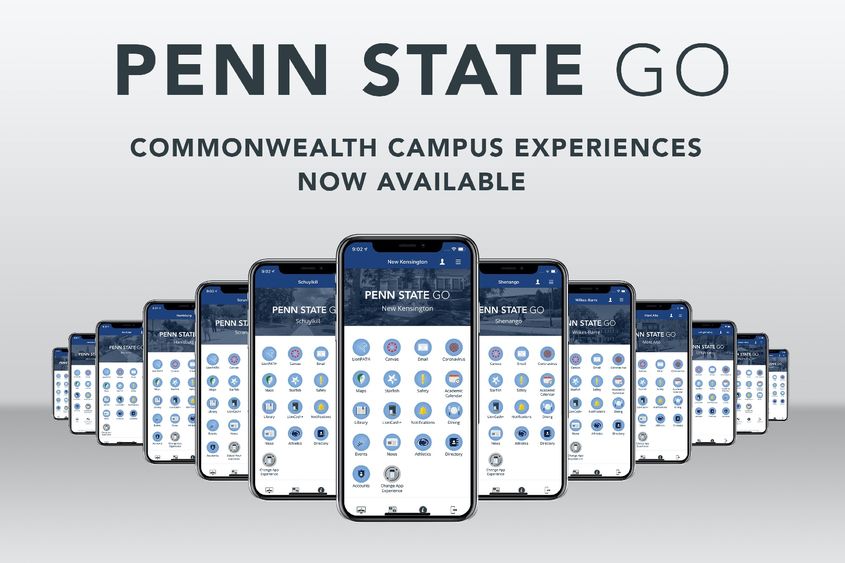 As a student-driven mobile app, Penn State Go, launched in January 2020, has continued to make updates and improvements based on student feedback submitted within the app to enhance the mobile experience.
On May 13, students at Commonwealth Campuses will be able to select their individual Penn State Go Commonwealth Campus Experience by clicking on the Change App Experience button in the app. Selecting the Campus Experience will allow students to receive important messages and updates to stay connected to what is happening at individual Commonwealth Campuses. Enabling push notifications in the app will help to make sure that these messages are reaching students to keep everyone informed. Each Commonwealth Campus Experience also will have content specific to the selected campus, such as events, dining, news and safety information.
While using Penn State Go, students traveling between campuses will conveniently receive a notification as they approach those campus facilities to suggest the most appropriate Penn State Go Campus Experience. Never miss an important message while on-the-go with Penn State Go's new GPS location technology. Check out events happening at a campus, view the campus map, and discover what resources are available at your selected campus before you arrive.
Sign in to Penn State Go with your Penn State ID to access all your academic needs, including Canvas, Penn State email, campus maps, grades, class schedules, tuition bills via LionPATH, LionCash+, library services, Starfish academic advising, and much more.