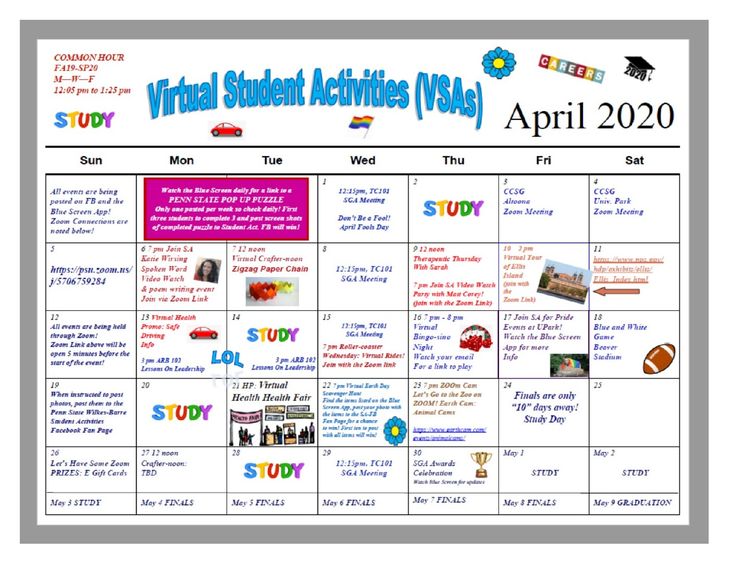 LEHMAN, Pa. – The Student Activities Office at Penn State Wilkes-Barre typically offers a full slate of activities for students and will continue to do so throughout April –—even though the way those activities are delivered may look a little different.
"At a commuter campus such as Penn State Wilkes-Barre, Student Activities has always been very hands-on, be it Make and Take Tuesdays, watching a live performer in the Student Commons, end-of-the-semester bonfires, or trips to Philadelphia and New York. Everything we offer to our students has been very social and engaging experiences," said Jacqueline Warnick-Piatt, student activities coordinator. "With the coronavirus pandemic, the self-quarantine measures, the University's decision to go to remote learning for all courses, and then the cancellation of all in-person events and travel restrictions, our Student Activities Offices also had to find a way to keep our students engaged."
The Student Activities Office, in collaboration with other Penn State campuses, Intercollegiate Leadership partners, and activities offices around the country, worked to develop new lists of virtual activities.
Some of the Penn State Wilkes-Barre events include:
— Jazz saxophonist Matt Corey, Thursday, April 9, at 7 p.m. Corey was originally scheduled to perform during the end-of the-semester 4 Seasons Club Bonfire, Band, and Pig Roast.
— A virtual tour of Ellis Island, Friday, April 10, at 2 p.m. This tour will last approximately 45 minutes and was scheduled after the cancellation of the Ellis Island field trip.
— Roller Coaster Wednesday, April 15 at 7 p.m. This virtual event will provide point-of-view experience with rides at Cedar Point amusement park in Sandusky, Ohio.
— Virtual Bingo-sino Night, Thursday, April 16, at 7 p.m. This event combines bingo with a casino night for double the fun.
— Virtual Earth Day Scavenger Hunt, Wednesday, April 22, at 7 p.m. Students will have the opportunity to find the items listed on the Blue Screen app, post pictures to Facebook and win prizes.
— Let's Go to the Zoo on Zoom, Thursday, April 23, at 7 p.m. This tour uses animal cameras to provide an interesting zoo experience.
— Crafternoon, Monday, April 27, at noon. Students can take part in this arts and craft project with items readily available in their homes.
— Plans for the Student Government Association Leadership and Athletic Awards Celebration are being discussed. Please watch the Blue Screen app for more information as it becomes available.
— Warnick-Piatt is also planning "Pop Up Programming" (PUPs) that will be announced on the Blue Screen app. The pop-up events are 3- to 5-minute activities for students to take a photo and post to Facebook for a chance to win prizes. Only five PUPs will be held over the next three weeks.
"The virtual student activities aren't only about the activity. They really are much more about coming together and sharing an experience, now virtually," said Warnick-Piatt. "It is about chatting about our day, making sure students are making time for fun and relaxation, and making every attempt to keep our students engaged with each other and in these cases, with the Student Activities Office."
For full details on the Virtual Student Activities, students are encouraged to download the Blue Screen app, check their Penn State Office 365 email daily, visit Penn State Wilkes-Barre Student Activities on Facebook, or contact Warnick-Piatt at 570-675-9284 or at [email protected].