September 10–October 15, 2019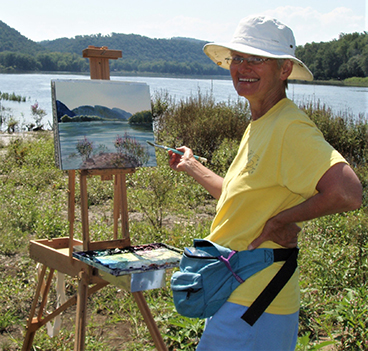 "The Susquehanna Song" features paintings by local artist Sue Hand. With a paintbrush in one hand and a canoe paddle in the other, she paddled the North Branch of the Susquehanna River for five years to create her 300-piece epic series.
The Susquehanna River's North Branch flows from Cooperstown, New York to Northumberland, Pennsylvania, where it meets the West Branch before continuing its journey to Harrisburg, Pennsylvania and on to the Chesapeake Bay. Hand and fellow artist, Peggy Davidson, paddled in sun and rain, cold winds and heat, through high waters and river drought, gentle currents and a few turbulent rapids. The artworks depict the river as few have seen it: not from roadsides and riverbanks, but from the river water itself.
Sue Hand painted "en plein air," the act of painting outdoors, on many river islands, some merely a strand of sand and gravel in the middle of the river, and in the comfort of her studio from sketches and photographs taken on her many canoe trips. The Friedman Art Gallery exhibit showcases a selection of the resulting artworks, honoring her love of nature and the beauty of Northeastern Pennsylvania.