This 8-hour workshop is designed to explore workplace cultural diversity issues and to increase awareness of diversity dynamics. Designed for both employees and managers, this course will enhance attendees' understanding of diversity-related issues and give them the skills to address these issues when they arise.
Why should we understand cultural diversity?
Data USA reports that Luzerne County is home to 318,000 people, of which 95.5% are U.S. citizens. The county's foreign-born population is 19,200, or 6.04% of the total population. The cultural demographics of the region have been growing more diverse, which is being reflected in the area's workforce. For example, in 2000, the Hispanic/Latino population in Luzerne County was 1.2%; by 2018, this had increased to 12.9%.
The following chart from Data USA illustrates the 2018 Luzerne County population by race/ethnicity: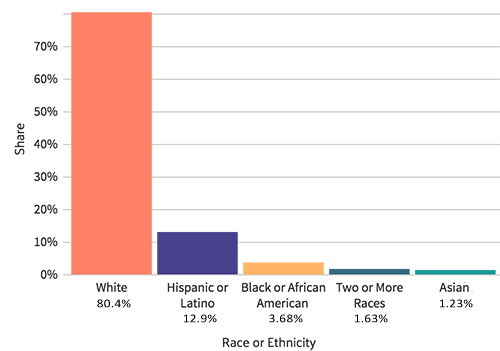 Course Topics
The primary and secondary dimensions of diversity
Meeting an organization's requirement for working with diverse groups
Diversity management—ensuring the long-term strength of the organization
Improving the essence of a business and bringing access to new segments of the marketplace
Building diversity management skills to create a high-performing work environment
Improving diversity awareness and knowledge
Communicating with people of diverse backgrounds based on understanding cultural norms and practices
Providing input into an organization's diversity vision
Understanding diversity as a strength in an organization, not as a weakness
Making use of the diverse talents of people in work assignments and decision making
Resolving diverse work group issues related to impending changes
Sharing accountability with diverse groups equitably
Understanding the potential opportunities if diversity is well managed, as well as the risks if it is not
Logistics
Dates: Thursdays, March 9–March 30, 2023
Times: 6:00–8:00 p.m.
Location: Virtual instructor-led training via Zoom videoconferencing
Cost: $165 per person
Register online for Cultural Diversity in the Workplace
To register or for more information, contact Continuing Education at 570-675-9253 or [email protected].