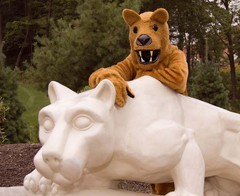 Welcome to the Alumni and Friends section of our campus website. The information provided on these pages will give you an overview of the many exciting things happening at Penn State Wilkes-Barre, and the many ways that you can get involved! Please use this website as a resource to identify ways you can stay in touch and how the campus can support you as an alumnus.
If you are a Penn State Alum living in the Wilkes-Barre area, or if you attended Penn State Wilkes-Barre during your college career, you've come to the right place!
Stay connected to Penn State
Support Penn State Wilkes-Barre
If you are interested in helping Penn State Wilkes-Barre in its continued quest to provide nationally recognized, quality education to the students of our region, we can always use your support, whether an alumni or friend of the University. Your time, energy, and/or financial help is critical to the continued success of this campus, and whether a volunteer or financial donor, we appreciate your generosity. No gift is too small. Our students are dependent on the generous support of scholarship donors, as most Penn State Wilkes-Barre attendees receive financial aid and work part time to afford their education. There are several ways to make a philanthropic gift to Penn State Wilkes-Barre (including by donating to the Annual Fund), and many recognition opportunities and benefits to making these gifts for both personal fulfillment and tax incentives. We hope you will take a moment to follow the links on the left for more detail.
If you have any questions please do not hesitate to contact us at 570-675-9228 or wbalumni.psu.edu. We look forward to speaking with you.