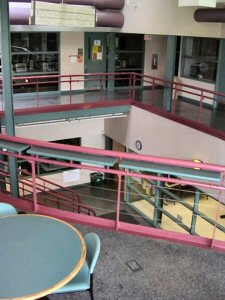 Constructed in 1990, the Bell Center for Technology is a state-of-the-art facility offering IST students everything they need to gain practical, hands-on experience with today's technology.
The Center for Technology features:
Fully networked classrooms and laboratories with high speed Internet access.
Two large computer labs with the latest microcomputer technology.
Three electronics laboratories specializing in telecommunications and nanotechnology.
A Students Commons area, full sized auditorium, faculty offices and ample parking.
The Friedman Observatory, whose telescope gives the residents of Northeastern Pennsylvania an unparalleled view of the skies.
Wilkes-Barre Campus
The Technology Center is just one feature of the Wilkes-Barre campus. Please look at the campus tour for more information on the entire Penn State Wilkes-Barre campus. If you want see the campus and Center for Technology in person, follow these driving directions to the Wilkes-Barre campus.