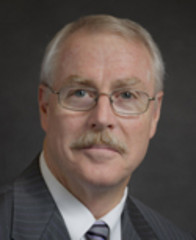 Dr. Charles Davis
Chancellor, Penn State Wilkes-Barre
We invite you to explore the many opportunities available here at Penn State Wilkes-Barre. We proudly offer the advantages of an intimate campus atmosphere combined with all the resources of a major research university—located on a scenic estate in northeastern Pennsylvania just thirteen miles from Wilkes-Barre.
At Penn State Wilkes-Barre you earn a world-class degree from an internationally recognized university. Many of our students begin a degree here in one of over 160 majors before moving to University Park (or another Penn State campus location) to complete it. Others choose to stay with us because they love the convenience of being close to home while earning one of eight bachelor's or four associate degrees. Still others refresh their knowledge a course at a time while working full time.
Whether you're interested in professional development, an associate degree or bachelor's degree, our small classes encourage close interaction with professors who are committed to helping you succeed. Combined with student organizations, clubs, athletics, and leadership opportunities on campus and in the community, students experience an educational environment that nurtures the whole person and the places they live and work.
As a land-grant institution, Penn State University plays an essential role in insuring the cultural, economic, and educational success of Pennsylvania's citizens. For almost 100 years Penn State Wilkes-Barre has been Penn State Proud of its commitment to serve the local communities of northeastern Pennsylvania. In addition to our degree programs, we offer applied research, workforce development, internships, speaker series, and cooperative extension services.
See what exciting opportunities are available as you explore our web site. But if you really want to get to know us, please come for a visit. We'd enjoy meeting you.

Dr. Charles Davis
Chancellor, Penn State Wilkes-Barre